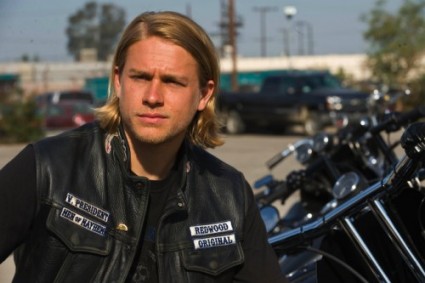 Summer is a great time to catch up on all of the TV you don't have time for during the year. As I've previously written, I spent a week obsessively watching the first two seasons of Sons of Anarchy. It took me a few episodes, but then I realized that the ruggedly handsome Jax was pretty boy Lloyd from the late, great, Undeclared. This fact made me love Sons of Anarchy that much more.
I hadn't really caught up with Charlie Hunnam since Undeclared went off the air, and apparently I wasn't alone. SoA creator Kurt Sutter said in his Plus One Per Diem interview that when he approached Hunnam about doing SoA, he had become disillusioned with acting and was doing some writing at the time. Anyone who knows Hunnam from Undeclared or the UK version of Queer as Folk certainly wouldn't think of him as a hyper-violent motorcycle gang member, but that's what makes casting his as Jax that much more brilliant.
When he was on Undeclared, Hunnam was the cute boy; the dreamy Heath Ledger lookalike who made all of the guys around him feel inferior:
His good looks were benign and served excellently as a juxtaposition against the oddball looks and personalities of the rest of the guys in the cast. In Sons of Anarchy, his looks are still integral to his character, but in a completely different way.
Jax doesn't need to be good-looking because the network needs a hot guy to sell this show. Jax needs to be good-looking because it's how Jax gets what he wants. He flashes his smile and women melt. Whether you're a man or a woman, highly attractive people can get away with more. Jax uses his baby blues and his charm to navigate his way between straight society and the underworld of his motorcycle club.
Plus, from an audience perspective, violence is more shocking when it's being perpetrated from someone who, depending on the time of his life, either looks like Heath Ledger or Brad Pitt. Violence is a dirty business, but when someone as pretty as Charlie Hunnam is the one smashing someone's face in, it's that much more shocking.
While Hunnam proved he was more than just a pretty face while on Undeclared, he's shining as a dramatic actor on Sons of Anarchy. Jax Teller is tortured, charismatic and violent. The audience doesn't know whether to root for him or be disgusted by his violent actions, usually vacillating between the two throughout an entire episode.
Undeclared was canceled too soon and I'm infinitely grateful that Sons of Anarchy came along and let us see the evolution of Charlie Hunnam.
Photo Credit: FX