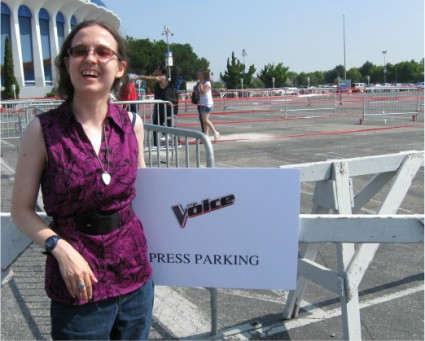 In June, I declared that I was going to audition for season two of NBC's The Voice.
"Are you really?" was the general reaction, from people whose exposure to my pipes was listening to me sing along with the premiere of Maroon 5's "Moves Like Jagger" in week nine.
Yes, I really was. And on August 30, at the Los Angeles Forum, I really did.
I harbored no illusions, dear readers, that I was the next Javier Colon or Dia Frampton. I am not. There was that one time I was asked to lead part of the America's Got Talent audience in a rendition of "Forget You" by Cee Lo Green, but that doesn't count.
No, I was stepping to the mic because that same night at AGT, I was the only person singing along (loud and proud, of course) with the pre-taped performance of "Moves Like Jagger." Because I really, really love the music, even if I don't do it well.
And because I still love Adam Levine.
My love of the music came from my admiration of the man, and that's why my audition day started at 3 AM, on four hours of sleep and with my stomach in a vise. It wasn't worry over the outcome; I already knew that amongst thousands of hopefuls — the number of my audition pass was #8800 — I probably wasn't moving forward.
But I was scared, folks, because this was personal. Knowing it was Adam who had inspired me to try — and who had stayed in my corner since we met near the end of season one, even catching up with me when I went to a Maroon 5 show in July — I wanted to make him proud of me.
As the unofficial ninth member of Team Adam, I wanted to represent them well. I had to make a good showing for these people who had become my friends, like Tim Mahoney and Casey Desmond, who had given me advice and support from the moment I'd decided to follow their lead.
And I wanted to do well by Scott Grimes, who not only was gracious enough to let me use his song "Sunset Blvd." to audition with, but who had sat me down at this year's Comic-Con to give me pointers, and even tweeted me his support on the day. I didn't want to wreck his beautiful song either.
Thanks to all of the above, I'd had far more help than others could even dream of, and I didn't want to waste it. It was no wonder that I was wound tight when I arrived at the LA Forum at 6:15 and joined an already sizable group of hopefuls. I met a friend of Tyler Robinson, a girl who had never even seen the show before, and one soon-to-be-friend of mine named Jonathan whose audition number was in five digits. We all knew we were up against it.
But did that stop us from standing in a throng in the parking lot for at least an hour? Or enduring thorough security searches (after I narrowly escaped injury as my walker enjoyed rolling out of control down the steep driveway)? Or from queuing up in nine more lines inside? No, it did not.
I spent the next two hours in line #9 on the Forum floor, making friends with the five people around me. I learned that Gabriel had driven from Phoenix. Emily had once auditioned for AGT. And Jonathan had gone to calls for American Idol. We were a misfit bunch, spending most of the time breaking out into group renditions of songs we weren't auditioning with, like our not too shabby version of "If I Ain't Got You" by Alicia Keys, and wondering aloud if anyone would be crazy enough to try out with something by "Weird Al" Yankovic. (We recommended "Amish Paradise.")
We were occasionally interrupted by announcements from some man in charge of proceedings. I never learned his name, and since he was yelling from the front of the room and on the other side of it no less, I didn't hear half of what he was saying. What I did make out, though, made me smile. He reminded us that we were in a place where we weren't going to be mocked or degraded, and that we should shake our nerves because we'd all be fine. The auditions were just like the show — a positive, encouraging, safe place for everyone, regardless of who you were.
I never did shake my nerves, though. I knew the only person who could really steady them was Adam, so I just accepted that I'd be permanently intimidated.
We reached the front of the line, and were given our blue wristbands to indicate we were performers. We were then sent to queue into other lines of ten — our actual audition groups. There was a sad moment as our little impromptu family was almost entirely broken up. We all knew we'd probably never see each other again.
Jonathan and I were in our group together. We watched as those in front of us were led up to a section of seats to wait again, this time to be escorted to audition rooms. Taking note of my walker, a casting associate called for a staffer to walk the two of us back to our room. This seemed like a good idea at the time, until we realized that there was only one elevator and it was on the other side of the arena. After the elevator, we had to walk down three or four more hallways and through the impromptu production office. By the time I got to audition room C1, I was sweating bullets and nursing what was left of my hamstring, taking painkillers that wouldn't kick in until it was too late.
As I sat down outside the door, I knew I'd given almost everything I physically had before I even walked into the room. With little left to stand, let alone sing, I felt what I can only describe as an inevitability that my fate was sealed.
Up until a few months ago, I would have given up. Not now. Not while being sure that if Adam had been there and not in Florida, he would grab me by the shoulders and tell me not to even think about quitting. He was right, and he deserved better from me.
The woman who was in charge of the room came over and personally introduced herself to me. She told me exactly what was about to happen, and that I needn't worry. It made me smile, because I knew she didn't have to say anything, and I appreciated that she had. The producer met us in the audition room with stress release candles and a pep talk. Really? I thought. They didn't have to do all this. Most people wouldn't do all this. Everyone really sees us as people, and not just a bunch of numbers to be waded through.
We were called one by one to come to a center mark and perform a verse and a chorus from our songs. We were encouraged to support one another, and we did. We applauded, we said "Good job," we laughed when one guy cracked a joke. Jonathan had to go first. I got to go last.
"What are you singing for us today?" the producer asked me.
"A song called 'Sunset Blvd.' by Scott Grimes."
Her face said she'd never heard of it. "Okay, great," she said. "When you're ready."
Of course I was ready. I had been rehearsing this song every day for months. Then again, I was also near exhaustion, nervous, and with everyone else's verses now rolling around in my head, so I guess I shouldn't have been surprised that I blanked on the lyrics partway through. I made something up. The right lyrics came back to me twenty seconds later in mid-chorus. Too late. To applause, I sat down and took a deep breath.
The producer broke the bad news: none of us would be receiving a callback. There were some great voices, she said, but the standard was simply very high because of the first season. She thanked us, and we all stood to leave. We could have been upset. Maybe we should have been. But we were in good spirits, complimenting each other, still smiling.
I knew I'd given everything I had, but I was beating myself up for the flub. Yet as we made the long walk out, I remembered that Adam had forgotten lyrics once. During a concert. To a song that he wrote. Now he and I had something else to talk about next time.
As I left, on my way with my new friend to celebrate our defeat with pancakes, I saw the next batch of hopefuls arriving. I couldn't help but smile. No matter what happened, they were going to have a good time; maybe I'd even be interviewing some of them next season. For me, it was a good day. I had done something I never thought I could. I certainly couldn't have asked for a nicer, safer place to rise to that challenge. I've already decided I'll do it again, should I get the opportunity.
And though I won't be on the show, well … I'll be back there anyway, meeting my new team, making new friends, and getting to hang out with my coach. It's still the best gig on the planet. Now I can just say I've seen from the other side.
Photo Credit: Brittany Frederick