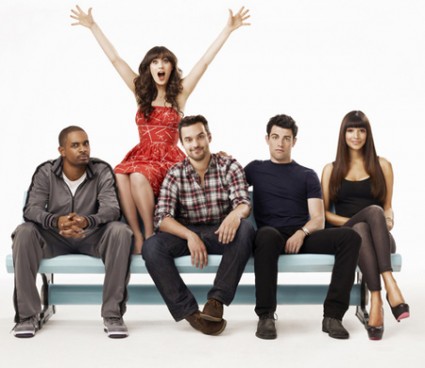 Bob Degon once said something to the effect he didn't know where I was coming from when it came to the shows I watched. "You're all over the place."
Fair assessment. It just so happens I resemble that remark and I don't have a problem admitting it.
So when it came to the decision of giving a New Fall Season comedy a go — not exactly my cup of tea (Hey! Who's idea was this anyway … ?!?) — I thought I would extend "the awe" Bob saw in me (*snort*) and jump into New Girl with both feet fully extended. Which I don't mind stating scared me a bit.
Right off the bat, I knew there were things the show was going to introduce me to that go against my happy places: Jess' (Zooey Deschanel, (500) Days of Summer) possibly annoying lilt … her oft-times dorky intonations … her possibly odd facial expressions. Were the writers going to use Jess as a vehicle of helpless femme de cluelessness? I hoped it wasn't going to be that kind of comedy. Because if that's what was in store, I knew I was going to hate it right out of the gate.
So "premiering" I went … head long into the unknown waters of New Girl. And you know what? It wasn't what I expected. It wasn't anywhere near as bad as I expected. Jess' lilt? Lo and behold, used to good effect. Her dorky intonations? Not so dorkified after all. Her odd facial expressions? Surprisingly and recurrently funny. And that writing I was worried about? Snappy … but for an entirely different reason besides Jess.
A big part of the surprise was the interactive banter between Jess' roommates — Nick, Schmidt and Coach (Jake M. Johnson, Max Greenfield and Damon Wayans Jr., respectively). It was funny stuff. I came close to a guffaw or two, even. Truth be told, their back and forth, along with my unexpectedly surprising "like" of Zooey in the role, are what will keep me coming back to New Girl.
I didn't see (500) Days of Summer and I knew little of Zooey Deschanel going into this program. But my preconceived notions pretty much melted away in the half hour I spent with her and the gang. Nice little introduction and set up, engaging dialog, some showboating that wasn't over the top, a couple real life situations many of us can relate to (or who know a friend *couch, cough* who's going through the same situations) and, in the end, a little heroics to save the day. What wasn't to like?
So, none of the things I thought I was going to dislike about the show manifested themselves. But … that's not to say there weren't a couple quibbles:
1) I hate the intro music to the show. Hate it. Hate. It.
2) Something needs to be done about Jess' hair. It needs to come out of her face. Remember when Ally Sheedy's character Allison got "done up" by Claire (Molly Ringwald) in The Breakfast Club? When she came out, all gussied up? The look on Brian's (Anthony Michael Hall ) face is what I would like to experience if she ever gets her hair out of her eyes. Who's with me?
I predict I'll be enjoying this show right to the very last of the season. I'm not fooling myself: I do expect bumps in the road, but comedicly speaking I think I'm going to get my money's worth. To answer my own question: The premiere was more than promising.
Hey … did you miss the premiere? Fear not! You can see it in James Ged's write-up from last week on some of the new fall offerings. Lucky you!
Notes:
One day, I want to come across someone named "Johnson," befriend him and nickname him "Two Boobs Johnson" after one of Jess' made-up stripper names.
I wonder where I can purchase a "douchebag jar" locally. The CliqueClack team needs one … just for fun. (Yeah … I could make one by hand, but the team requires top-rate products to use and won't except anything less.)
Too bad Wayans won't be continuing on the series, instead being replaced by Lamorne Morris. He was terrific in the pilot.
Quotes:
"I need to be able to come home from work, sit on my couch and let my beans out … let'em breath!" — Coach in discussion with his roommates about Jess moving in
"Listen … what if you came out with us tonight? You know … after work? We'll fix you up, we'll take you out. We'll get you a rebound." — Schmidt
"A rebound?" — Jess
"Yeah." — Schmidt
"I don't know if I'm ready." — Jess
"You're totally ready for it. I'll take you through the whole thing. You know … I'll be like your guide." — Schmidt
"Like Gandalf through Middle-earth?" — Jess
"Probably not like … okay. First of all … let's take the Lord Of The Rings references? Let's put them in a deep, dark cave … where no one's ever going to find them. Ever." — Schmidt
"Except Smeagol … he lives in a cave." — Jess
"Please put your shirt back on. Please don't make me laugh at you." – Cece (Hannah Simone) talking to Schmidt after he doffs his shirt
"Can I hit you up with some tea? A little herb tea? Oh … oh, my God. How good is that? For real. What? A little P-mint tea? Yum, right? Hot … sweet … a little teabag action? I wasn't talking about putting anything on your face." — Schmidt
"Here it is … douchbag …" — Nick passing Schmidt the douchebag jar
"Listen you guys: Jess is by far the best person that I know. So if you guys let anything happen to her, I'm going come here and crazy murder you." — Cece
"I'm gonna be honest with you: I didn't hear a word that you just said, 'cause I can kind of see your 'party hats' right now." — Schmidt
Photo Credit: Fox