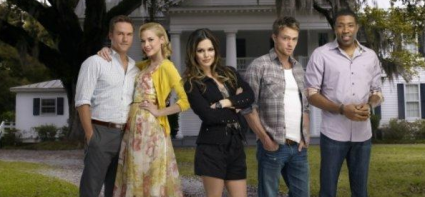 I'm not sure how anyone can not like Hart of Dixie. Sure, it's a little saccharine, but it's also quite genuine. The new CW drama is two parts Doc Hollywood and one part Grey's Anatomy, mixed together and southern fried (just the way my grandmother would). Dixie is a superbly cast "dramedy" that really understands the type of show it is trying to be.
Chronically cute Rachel Bilson plays Zoe Hart, a New York doctor who suddenly finds all of the little things in her life going wrong at once. So, instead of starting the cardiothoracic fellowship that is the next step on her grand life plan, she's headed to Bluebell, Alabama. Seems she made quite a fan of small town doc Haley Wilkes, and the open invitation to join his practice is the only option Hart has when told to do a year in general practice.
Hart is our quintessential fish out of water. The classic "New York Girl" seemingly doesn't fit into small town Alabama (Small town might be underselling it. Greenbow, Alabama is virtual metropolis in comparison) … but only at first. There's cute boy/lawyer George Tucker (Played by Friday Night Lights alum Scott Porter), who's spent some time in the big city himself. Also, the mayor is a face Zoe recognizes too, ex-NFL player Lavon Hayes (Played by Cress Williams, who has the "athlete talking about themselves in the third person" bit down perfectly). And neighbor Wade Kinsella (Wilson Bethel) proves that jerks act the same in the South as they do in the North.
I absolutely love the secondary casting, as well. Tim Matheson plays Haley's (and now Zoe's) partner, Dr. Brick Breeland, who isn't exactly happy to see Zoe move to town. His daughter, Lemon, isn't a fan of our protagonist by the time the end credits roll either (Lemon is played by Jaime King, who remains the best part of Michael Bay's Pearl Harbor). I also think Nancy Travis rounds out the cast perfectly as Emmeline Hattenbarger who seemingly runs the practice for doctors Hart and Breeland, but unfortunately commitments to Last Man Standing means she'll be replaced by a new character in episode three.
There's just something perfect about the small town charm of Bluebell. Sure, showrunner Leila Gernstein slips into southern clichés a little bit much for my tastes, but no more (well, less actually) than Sweet Home Alabama did, so I guess I shouldn't complain too much. Like I said before, though, Hart of Dixie owes much more to Doc Hollywood as anything else, which is actually pretty high praise coming from me. I've never watched The O.C., so Dixie will be my first really extended experience with Bilson (Though I did enjoy her turns on How I Met Your Mother and Chuck). She's cute personified (which actually works to her detriment when she's trying to pull off the New York attitude).
There are some great twists and turns in the first hour, too. I should qualify that twists and turns in a show like Hart of Dixie are markedly different than they would be on, say even Gossip Girl for an example. But things are not exactly as they seemed, especially the reasons behind Dr. Wilkes unrelenting recruitment of Zoe. But it works … everything about this show works. Dixie is wonderful in everything that it sets out to be; the only thing that has me worried about its success is playing in the minefield that is the Monday Night Primetime landscape.
Notes & Quotes
"Zoe, you've got the best hands I've seen in 30 years, but if you want to be a hear surgeon, you've got to work on your own." – Chief of Surgery
"[sarcastically] But I do cardio five days a week." – Zoe
"There it is. Rock Bottom; I just played Dixie with my butt." — Zoe
Photo Credit: The CW