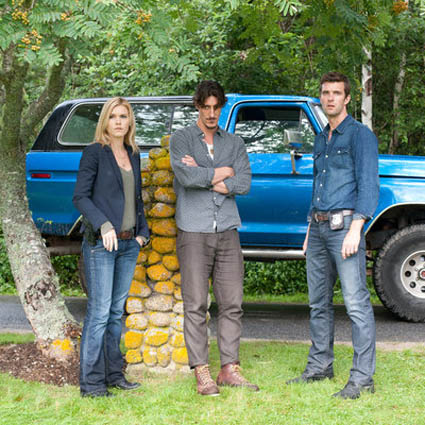 Haven is definitely one of SyFy's blockbuster original series. Although season one gave us a lackluster first half, the writing, acting, and special-effects all improved by season one's finale. Last year, Carissa and I reviewed the finale and interviewed producer Charles Ardai.
This season, they upped the star power, the budget, the writing, and the action by ten. I really enjoyed Jason Priestly as Audrey's charmingly troubled boyfriend; former WWE wrestler Adam "Edge" Copeland as the town's troubled trouble-fixer; and Tahmoh "Helo" Penikett as Duke Crocker's troubled hating father.
All of the actors kicked it major league. Lucas Bryant portrays Nathan's vulnerable toughness with his normal, acting excellence. Emily Rose's Audrey developed from last season's scrappy action hero. Season two's Audrey grows increasingly distant while uncovering her buried secrets. Eric Balfour plays the gangly shyster, Duke Crocker, with 150% believability; he carries his frame as bar-fight ready. THIS season's Duke I totally believe had a difficult childhood and NEEDS the multiple hidden firearms. I thank the producers for ceasing to use Balfour as eye candy.
Story-wise, this season rocked the house. Everything proved incredibly tight, compact and well-plotted. I didn't have a bad comment or lose thread to pick. Kudos to Executive Producers John Morayniss, Noreen Halpern and David MacLeod. Writing-wise, Gabrielle Stanton, Nora Zuckerman, Lilla Zuckerman, Annmarie Morais, Matt McGuinness, Jonathan Abrahams, Sam Ernst, and Jim Dunn all did excellent jobs on this season's scripts.
I loved season two's well-constructed story points. The two Audreys melded so well I feared the show planned a switch-up, and I feared I would not complain. I loved Nathan, Duke, and Audrey's strengthening yet fracturing relationships. The show's tentative alliances all happened naturally without coercion. I enjoyed watching Audrey's physical closeness with Duke while reading his father's journal, and their slow separation upon realizing its implications. I loved the temporary match-up of the show's two hot badasses.
I didn't expect Audrey and Nathan to get together. Both actors emit such a casual friend vibe, I could've watched their platonic friendship for two more seasons. However, they also have a natural chemistry, which the show used well. In "Business as Usual," I love that Audrey chose to confront Duke over running to Nathan after "real" Lucy's revelations. That shows confidence on the writers' parts. They assure us that the mystery will NOT take a back seat to Haven 90210.
I love that Haven maintained the intensity between Nathan and Duke as well as Audrey and Duke throughout the season. I like that the show never overplayed Audrey's touch and its affect on Nathan. Yet, I squealed over the mutual "You're not just my partner" confession. That phrase incorporates all shades of the love prism.
Honestly, Haven was good last year. But, this season, it became GOOD.
This season shed light on the first season's plot points. Now I understand why all the "elder" Haven residents seemed so shifty. Now I know why Audrey's FBI handler never met her at the office (including in the pilot). Now I know why the chief felt Nathan needed Audrey. Now I understand why Nathan no longer trusted Duke.
I am so looking forward to next season. I have so many questions I want answered. What happened to the first Audrey? Which side are Vince and Dave on?  What happened to Audrey's FBI handler?  I loved the actors who played the Rev and the chief, will they continue to do cameos? Haven never shirked away from removing (or killing) major characters in season one. Will we actually see Duke die (or will they revive him five minutes later)? Is the real Audrey's name Stephanie McCann?
Honestly, I'm almost sorry the fall has come and Haven has gone. I have SO much more to say. So, forget about Syfy's Press Day down in Florida. For any of the parties involved in Haven's production, including Syfy, Entertainment One, and Piller/Segan/Shepherd, I hope you bring bloggers up to visit the set. I love fiddling, lobsters and chilly summers. So, if you ever wonder who to invite, my bags are already packed.
Photo Credit: NBC Universal