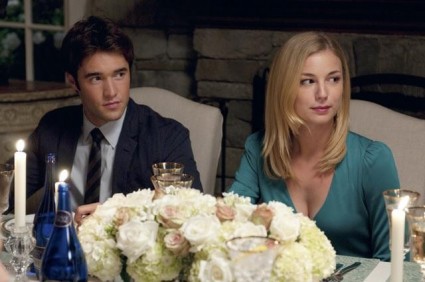 Revenge gets crazier and crazier each week … in a good way! The format has shifted from Emily getting revenge each week and using her red sharpie across someone's face to a suspenseful serial drama. The interwining of all the characters, their motivations, secrets and even a little romance has created the best new network show of the season.
In "Charade," we finally find out the truth about several key characters and the truth is definitely not pretty on Revenge. Though not shocking, at least part of Tyler's plan was revealed. His family is broke and he is trying to move in on the Grayson's to restore his family's wealth. I was a bit surprised he came clean with both Nolan and Ashley so easily, but I expect that is part of his plan.
The big shocker was that Nolan and Tyler ended up in bed together. Whoa! Did not see that one coming … at all! Sex is a great motivator, but also useful for blackmail. How will Nolan use the recording of their escapade? This twist of having Nolan and Tyler at odds was not something I saw coming, but has me more intrigued than anything with the Grayson family.
While I like the Nolan and Tyler dynamic, I couldn't care less about Tyler and Ashley. The reveal that she too wants to make her own place in the exclusive Hamptons club is not a shock, but I'm not thrilled with the tone of her quest. She is not the sweet friend of Emily that I thought and wanted her to be. I understand wanting to have money and get ahead, but there is trying to achieve it through hard work and there is the more underhanded way that both Tyler and Ashley seem to be taking.
Even more shocking was that Frank found out the truth about Emily and Amanda. I didn't expect that to happen until much later in the season. Is Frank dead? It could go either way given Lydia's incredible survival, but perhaps a bit much for them both to escape death. Will we even find out what happened to him or will that be a mystery that hangs out there for now?
While Amanda's secret is still safe for now, Victoria's suspicions about Emily were confirmed. Hmm … what will she do with that information? Did she see Emily and Amanda on the porch from her balcony? They were all outside at the same time. Now that the real Emily is back, how will that change Amanda's plan?
One part of Amanda's plan is now clear — Daniel is not a target. I never really thought he was one, but he did seem to be a means to her revenge. Does Amanda really love Daniel? I thought so, but then while kissing Daniel, she made hand love to the porch swing! What was up with that? I truly think she is conflicted and has feelings for both Jack and Daniel. We know she ends up engaged to Daniel, but Jack is on the beach … how do they get there? I'm excited to find out.
What did you think was the biggest shocker of the episode? And, do you think Frank is dead? I'd love to read your thoughts in the comments!
Odds and Ends
Amanda had help with her plan from Warden Stiles (CCH Pounder), I hope we get more flashbacks to find out that story.
Why does Nolan put up with Amanda? She is so mean to him. I'm guessing it is both because of his loyalty to David and his loneliness. With everything that Nolan has done for her, you'd think she wouldn't be such a jerk to him.
"What's a gay hustler doing posing as a Harvard student?" — Nolan
"Gay? Eh. A hustler? Maybe." — Tyler
Nolan is a 3 on the 6-point Kinsey scale — bisexual.
I like Declan and Charlotte together, but wow … Declan tells it how he sees it, doesn't he?
After 25 years, Victoria throws Conrad out now? A little too convenient for the story.
Originally the engagement party and beach episode was going to take place during episode 13, with the full season pick-up that story has been pushed back to episode 15.
I have only one complaint about Revenge — the green screen shots. I hope that the production gets better on these. The scenes on Emily's porch have been barely acceptable, but the Declan and Charlotte scene on the shore was horrible.
Photo Credit: ABC