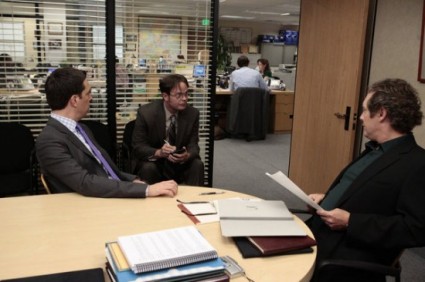 An end of the day tradition … sounds very Andy (and even more Michael). I don't know that I've ever worked in an environment where such a thing would be applicable, but at Dunder Mifflin five o'clock is definitely closing time, as it were. Still, the whole thing was kind of silly … silly, that is, until Stanley emerged, big grin stretched from ear-to-ear, singing the closing line of "Closing Time." His perfect quote is below, but I just have to say: awesome! I loved it.
How many of you were surprised that the Scranton branch is mistake-prone? Just look around that office and you can feel the poor work product. But the biggest mistake of all was Andy's, when he took Dwight's word for it on the "Accountability Booster," quite more aptly titled the "Doomsday Device." What was he thinking? Dwight's assurance that "Without a safety net, people will improve" was less than comforting.
While it was a disaster for the office, for us viewers it was awesome. Finally Dwight was back playing the villain role that he wears so well. And his logic can't be beat! Five strikes equals a home run, which means you're out. Obviously, right?
Everyone played their part in the process in perfect character. I loved Kevin's special project: "Apparently a big client for this company needs to know the story of how paper gets made." After a day of research, how is paper made, Kevin? "The man tree puts its penis—" Hilarious!
The zone defense as the clock ticked toward five was great, too. Pam, Erin, Andy, and Kevin going to Dwight's house to man him was a solid choice of a group. I loved the horse grave thing, and I have to agree with Pam that not mentioning the email was the right play. Meanwhile, Jim trying to play squash with Robert was great. I think Robert made the scene, but Jim held his own as a terrible squash player (and throwing Robert's phone across the room).
I do question the groups' decision — initiated by Jim — to assume that Dwight had shut down the machine simply because Robert hadn't received instantaneous delivery of the email. I can't even begin to count how many times I've experienced emails taking hours to be delivered for no apparent reason. Obviously once Dwight chimed in we knew he'd shut it down, but I thought that, in the end, it would have gone through and that Robert would have found all the disrespectful messages funny. But their way worked too, I guess.
I'm not at all a Gabe fan, and I still wish he'd stayed gone when he was banished by Jo last season, but I have to say that his scene with Toby, when he wanted to file paperwork regarding his and Val's "relationship," was great. The rest of his story not so much, but that part was very funny.
Overall, another solid ensemble episode. Way to go, The Office!
"I never heard that song before. And once I heard it, I did not care for it. But that song means it's time to go home. Now, [giant grin] it's my favorite song." – Stanley, on "Closing Time"
Photo Credit: NBC