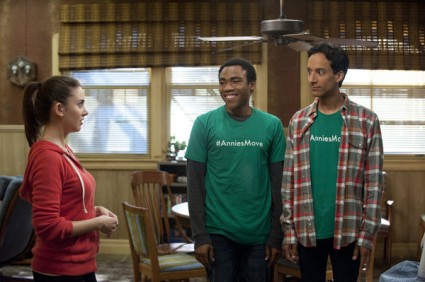 We're only seven episodes in, but this is already the second that hasn't taken place in Greendale. The study group itself has taken a backseat and instead, Community seems to be turning into a super-twisted version of Friends. Even Shirley notices the parallels when Annie moves in with Troy and Abed.
I like that they're switching things up a little bit though. That's not to say Community has any chance of getting stale – each episode is a brand-new fever dream. It's just that branching out with locations just gives them a little more room to go crazy. So, so beautifully crazy.
But also, I'm with Jeff: Troy and Abed's shadow puppets for Annie were basically the cutest things ever. I can't help but wonder though if we're going to get a weird Annie/Jeff/Troy love triangle later in the season. They've been laying the groundwork for Annie and Jeff pretty clearly, but Troy has snuck in with some feelings for "Our Annie" as well. While I'm not nearly as disgusted by the idea of Annie and Jeff as I once was, I'm still pulling for Annie and Troy all the way.
Oh, and Troy and Abed were definitely tweeting this whole move. Pierce is amazing with hashtags.
Some of my favorite lines from this episode:
"When you become roommates with friends, the things you love about them become the things that make you want to smother them with a pillow." – Britta
Britta: "Man children. Can't live with them; can't leave them alone with your tape."
Annie: "Britta! Don't make jokes! You're bad at it."
"I've seen enough episodes of Friends to know that cohabitation leads to sex, drugs, and something Parade Magazine calls 'Schwimmer Fatigue.'" – Shirley
"Now with your permission, I'd like to sing a little song about race mixing. This one's called, 'Don't You Do It.'" – Jesus
Photo Credit: Lewis Jacobs/NBC