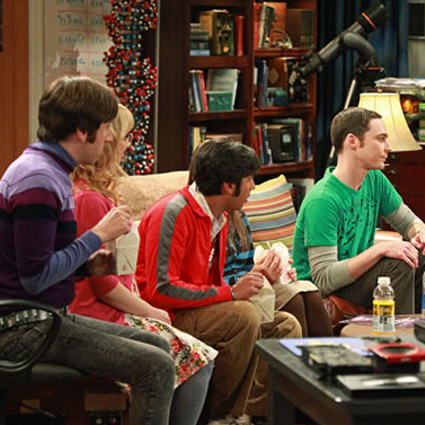 Katie and I compared the two 8:00 shows on Thursday night: Community and The Big Bang Theory (BBT). As you might guess we're furious that one show gets the ratings and the other the shelving. Do you agree that The Big Bang Theory sucks?
Katie: Just last night, my boyfriend and I were talking about how the character on BBT haven't really grown as people through the four seasons on the air. On Community, you really feel like these comedic characters are complex characters with real bond while still being very, very funny. One of the best examples is Jeff calling the gang "knuckle heads" in the first 2010 episode … lesser shows would have him go back to his less caring ways, but not Community!
An: I'll be honest. I never liked BBT when it first came out. People liked it because it was the first sitcom since Friends featuring non-Friends knock-offs. But, I hated the slowly paced dialogue and the blatantly brightly colored clothing.
Of course now I enjoy BBT's nerd-geek charm, but it's still very two-dimensional compared to Community. And, I still find it doubtful that Wallowitz (a guy that lives in a comic book store) didn't know Wolverine had bone claws to start.
Katie: I really had (and in many ways, still have) a big problem with Penny. Yes, I know there are women like her in the world and there's room for all sorts of characters, but for a long time she was more or less the only female character on the show. She wasn't smart, she didn't have a good job and she wasn't into quirky nerd stuff … she was just pretty. She was like the booth babe of nerd television (by the way, I actually wrote a post about this very fact back in January and got totally chewed out by fans).
What I like about Community is how they are very good about showing three very different women who are all funny in their own way while still maintaining dignity. They've even handled Shirley's rather conservative religious stance with a careful touch.
An: I don't think Penny is stupid anymore. She's changed from the ditzy, stupid, pretty girl in the initial seasons. I like seeing her eat Chinese food and geek out with the guys. However, she hasn't grown. I'm tired of the failed actress, unhappy with her cheesecake factory waitress job. Honestly, if she really wanted to make it, she'd try out for dinner theatre, student films, or unpaid avant guard projects. It'd be funny watching her audition for renaissance faires, and local comic cons, which would geek the guys out, but also show her dedication to her craft.
The Big Bang Theory is afraid of letting its characters grow. It has a formula which it knows works, which is different from the best 80s sitcoms. The Cosby Show and Family Ties had a formula, but the characters grew. Community grew outside the rebel, cool white guy; the pretty blonde girl destined to date him; and the whiny minority losers formula. The minute Dan Harmon realized a template didn't work and started treating the characters like people, he started branching out and letting them grow.
I loved seeing Britta and Shirley bond in the car. I love that Abed and Troy have become a one-man unit. I love that Jeff realized that the group's bond is stronger than him. They can live without him. Can he live without them? I love that Chang changes personalities each seasons but manages to seem realistic and funny.
I always hated the BBT's glaring, deliberately bright primary colors geared to attract the audience yet simplistically reflect the characters' personalities. It's clever if they're trying to recreate a comic book feel, but it isn't if they're just using bright shiny objects to make it seem "jazzy," a la most teen sitcoms.
Katie: I think you're on to something with Penny … it's less about her being uneducated as it about her not going out and doing more. If anything, it would be cool for her to show the other characters (who all have college degrees at least) that it is possible to do what you love outside of academia. Instead, she's kind of the butt of the joke when it comes to jobs, and the joke has gotten old.
More than that, I'm furious that we haven't seen a pop culture nerd girl on the series. All of the smart girls that have been on the show have no sense of nerd culture. Where's the girl that quotes Princess Leia or plays Portal or geeks out when she sees Summer Glau on a train? We exist and yet on a show that is supposed to be all about nerdy stuff, we are nowhere to be found!
You know, Community started with a pilot full of stereotypes … I don't think it's a coincidence that the theme of the pilot was The Breakfast Club, a movie with character defined by social roles. And like you said, Harmon and his writers are smart and brave enough to see where the character led the stories instead of the stories leading the characters. Can you imagine if they hadTroy's main motivation be football? Or if Britta was still the perfect bland love interest?
An: You're right, the other girls do lack the geek bone. It doesn't bother me because we already have four uber-geek characters and the girls balance them. I feel the show broadened since adding the female cast members. However, I could see Amy as a female geek. Either way I liked her quote about wanting to find a comic that used a woman who couldn't be used as a floatation device.
Hmm, when comparing Community to Big Bang, Community is the superior show because the writing's smarter and the characters are far more developed. However, BBT is growing, but at a MUCH slower pace. So, why is the show with the least amount of plot development, character growth, variety or experimentation getting all the ratings? What if more people actually watch Community than the BBT, but those people don't have Nielson boxes? Any final thoughts?
Katie: Looking back, I don't think BBT is a bad show by any means. In many ways, it does a decent job at showing nerdy people … it's just sad ladynerds are absent. Community, on the other hand, has a variety of characters that are vivid and dynamic and often very nerdy in their own right. On top of that, the writing is better, the characters have more depth and the show is daring enough to play around with the format. I've heard comments about Community not being relatable enough for "normal people," which is odd considering so many different kinds of people are featured on the show compared to BBT, which just features scientists (including the two minor love interests) and one "normal" woman.
I guess what I'm saying is … if you haven't watched Community yet, just give it a try. It's good … really good, and we need the really good shows to stay.
Photo Credit: CBS