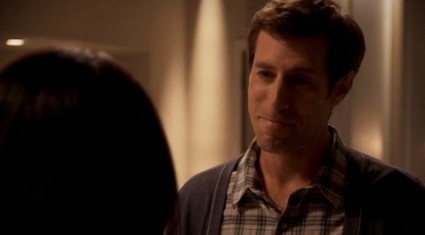 We love our commenters here on CliqueClack. Wow … it's great to be able to say that. Back in the days of TV Squad, we had a lot of not-so-nice folks (and a lot of nice ones, too) who frequented there, so to be able to make a blanket statement saying that we love our commenters is kinda nice.
Once in a while I get to read some fantastic theories by our commenters on the shows I post reviews for; sometime's they're right. Case in point: commenter Malik's dead-on, early theory that Dexter's Prof. Gellar was not real. I wish I could claim such theories for myself — and I guess sometimes I can, and do — but this was not mine, and was one that just seemed to brilliant not to write a post about. Now I think we have another winner, and it's a doozy.
Commenter "Sean" left the following theory on one of my latest Dexter reviews, when I mentioned that I thought Masuka's intern, Louis, was likely going to wind up the next Big Bad, next season:
Intern = 20 something. Brian = Dexters older brother. Dex hit a 20 year high school reunion last season, killed the dude under the stairs (useless information, just trying to shake your memory.) intern = dark hair, tall, bony stature. Intern = too interested in dexter, obviously. Intern = ice truck killer hand. == intern = ice truck killers son.
It's a long shot, but think about it.
Oh, I thought about it all right, and that's no long shot; I think we've got another winner here. It really does add up. Let's look at some of the evidence:
Louis has a clear hero-like infatuation with Dexter, and it's not likely to be because he knows of his serial-killing ways, nor his excellent blood splatter analysis. He's excited to meet Uncle Dex, that's why. He probably has no other living family.
We don't know much at all about ITK Brian's days before he entered Dexter's world, especially his time 20 years ago, which would be about when he would have met Louis's mother. It appears at first glance that Brian couldn't be old enough to be the father to a 20-year-old, but remember, Brian's Dexter's older brother, and 20 years ago Dexter was about 18.
Not only is Louis infatuated with Dexter, but he's got his eye on ITK's past. Hence, that's why he's started to accumulate ITK props.
Brian Moser was an extremely tidy fella — remember the cleaned out body parts, sometimes all gift wrapped for Dex? Now go back and take a look at Louis's apartment. Freaky neat.
EW recently posted portions of an interview with Showtime president David Nevins, who says the theme for the remainder of Dexter will kick off within the final two episodes of this season. I'm going all-in and side with Sean here. I believe we'll get the reveal that Louis is Brian Moser's son — Dexter's nephew — and that he finds out Dexter's secret. Actually, I'm feeling pretty certain about that first part, but I'm about 50/50 on Louis finding out Dexter's secret. A more series-ending catalyst would be Deb finding out Dexter's secret, and then her having to deal with that for the next two seasons.
So, is our commenter onto something here?
Photo Credit: Showtime