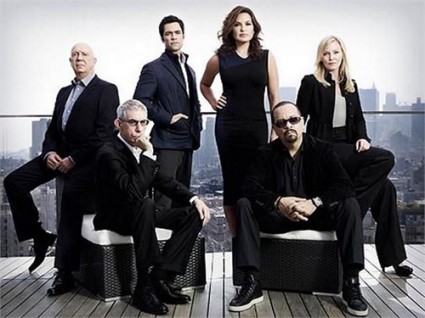 I was a big Law & Order: Special Victims Unit fan for a long time. But after becoming a father, I discovered that there were only so many stories of molested and/or abused kids that it was possible to take before reaching my limit. I was sad to have to let it go, but I had to give the show up at the beginning of last season.
Which means that I missed whatever it was that was used to substantiate Christopher Meloni's Elliot Stabler leaving the show this season. I had no idea how SVU intended to deal with its star's desertion.
But that's actually not what led me to check out the season thirteen premiere. From what I'd heard, the show planned to bring in a whole new detective team, while maintaining Stabler's partner Olivia Benson (Mariska Hargitay) in her regular role. How was that going to work?
Well, I'll tell you how it's worked: AWESOME! That's how.
Okay, so first of all, I love Olivia in the senior detective role. It's still a little odd that Fin (Ice-T) is without a full time partner (Richard Belzer's Munch is not always around, plus now he's a fancy Sergeant), but Olivia is playing mentor to two new squad detectives, and she's fantastic in the role.
In the premiere we were introduced to Detective Amanda Rollins (Kelli Giddish). Obviously we still know little about her, but it's clear that she's a total mess personally. Professionally she's still a little brash and unpolished, and I think she provides Olivia with a great opportunity to steer a cop who seems a lot like her toward becoming a superstar.
Next we met Detective Nick Amaro. Here I'm coming in with preconceived opinions, because I loved Danny Pino as Scotty Valens on Cold Case. In fact, because of that role I feel like Amaro's already established in my mind as a great cop. Nick comes in with a different resume, so Amaro is no Scotty just yet, but I've been loving getting to watch Pino once again on a weekly basis.
That's right … I'm back to being a regular SVU viewer. In ten episodes we've probably gotten an inordinate amount of child-focused offenders (Dan Lauria, the dad from The Wonder Years, as a Jerry Sandusky-like sexual predator? Isn't that sacrilegious?), but the new mix is so good, and so full of the unknown, that I'm hooked once again. And I find both Rollins and Amaro better when they're being partnered with a senior cop, as opposed to together. The handful of times that they have worked together as a team, they've totally clashed. I'm sure they'll get better with time, but no one should feel like they're in any kind of rush.
The Law & Order franchise has plenty of experience rebooting with fresh blood, but SVU does not. Sure we've seen Munch with a handful of partners over the years before Fin came along, and there's been some juggling in the District Attorney's office, but the core of the police team has been the same for twelve seasons (speaking of, where's BD Wong's Dr. George Huang?), so for them this is a first. And I must say, as a longtime viewer, job extremely well done. Keep it up!
What do you think? How has this season of SVU been for you? Are you enjoying the addition of Rollins and Amaro? Do you think Olivia still fits in at the precinct?
Photo Credit: NBC