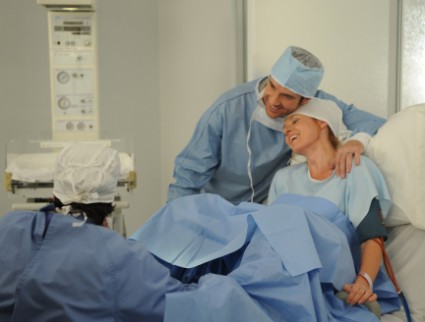 While some correctly theorized some time ago that Violet was already dead, Vivien's death came as a surprise. The birthing scene was haunting and brutal to watch on several levels. First there was the environment Vivien was forced to give birth in — the house she hated, lit with candles and crowded with macabre-looking "people" she had no idea were actually dead. Then we've got the winner for worst doula ever, Constance, who haunted over the proceedings like a nightmarish in-law. But one of the surprisingly painful scenes was the flashbacks to Violet's birth. Ben and Viven, many years ago and happy, as they bring Violet into the world — Violet, who was driven to take her own life. Let's not forget the crazy goings-on in Ben's head — the man was teetering on the brink of insanity.
I wonder what the medium, Billy Dean's racket is with her story of Roanoke and "Croatoan," and the fact that it didn't work. Earlier in the episode, little Tate is told he just has to say "go away" and the ghost will … go away. Violet winds up doing this to Tate later, but how effective is it? I guess we'll find out. But "croatoan" was something that came up on Supernatural a few times which I guess I just thought was cool. In any case, my guess is that Billy Dean has no interest in ridding that house of any spirits, and her advice to Violet was a bunch of BS.
Now to the cribs. I found it interesting that the cribs the two guys put together were two different colors and styles, and they clearly had a good/evil vibe going on. It was as though you could put God in one and the Devil in the other, with the red crib being rather pointed, the white one clean and smooth. After Vivien gave birth to the babies — the first, smaller one being stillborn — Chad is seen burning the red crib in the basement furnace. I'm wondering if that was symbolic of the stillborn baby being the baby meant for the red crib — Tate's son — and the one that survived being Ben's. Reading too much into it? Will we find out soon if the surviving child is Ben's? And will that stillborn baby forever "live" on at Murder House now?
With one episode left, what's Ben going to do now? Will he wind up making himself another permanent resident of Murder House? What if Ben kills himself, and new residents make their way to Murder House next season? The premise could continue to be that of the baby and protecting him, while new living people attempt to reside in the house around the hostility going on around them. If Ben doesn't kill himself, he's going to soon have to answer to some outside people where his wife and daughter are besides being holed up at home all the time. (Update: Since the Murder House is for sale — for real — it's more likely that next season will be in a new house. How will that work out?)
Photo Credit: Ray Mickshaw/FX