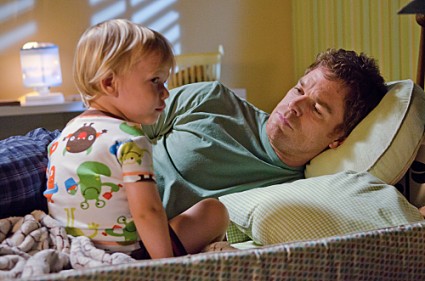 "Oh God" is right!
What a perfect final quote to the season, given the theme of Travis Marshall's killings and that final send off speech from Dexter. Oh, and then, of course, the big talking point of the episode: Deb now "knows" Dexter's secret. I put quoted around that word because, without seeing what's to come next season, we can only guess how much Deb will be let in on. Yes, she clearly witnessed Dexter murdering Travis, but Dexter can twist things around such that this comes off as a one-time thing. Remember, Travis took Harrison and threatened to kill him — that right there's enough for Dexter to call this a justified killing. It could be proven next season with a "look, we found this weird lion mask on the roof where Marshall killed the officer" next season.
I'm not convinced at all that Deb will be given the full low-down on Dexter's past exploits. It will come off that this was an exception for him, because of Harrison. But will Deb see that big bag-o'-knives that Dexter's got with him and wonder — in classic Deb fashion — "what the holy jesus fuck is that?!" Deb won't turn Dexter in — that much is clear. But she's going to have to keep that secret from her shrink and everyone they work with. That is going to make for one hell of an interesting couple of seasons.
What I am not looking for — as I already made pretty clear — is for Deb and Dexter to hook up. I don't have an adopted sibling, nor a sister, but I still think it's just wrong. I guess I should clarify and say it's just wrong for this show. It feels cheap and weirdly out of place; it doesn't make sense. If there was even a tiny hint of sexual tension in the past, then OK. But there were times in the past that Deb was clearly sickened at the thought her brother walked in on her having sex with someone else, and Dexter … can you really see him figuring this is a good idea? And then the awkwardness in the office while people found out? And … jeeze, Harrison growing up with "Aunt-Mommie Debbie?!" Guys who think this is hot: please stop. It's just stupid, and it's going to ruin the show; not because it's gross, but because it just doesn't fit.
The wowness of the final sene of the episode doesn't erase the fact that there were a few flaws in this episode. Heck the entire season was lackluster, to be honest, though I still love this show and believe it can get back on its feet next season. What really frustrated me was when Dexter was called to the house Travis was holed up in, and all of the authorities waited for Dexter to enter before anyone else? Bullshit. When there's a murder, armed officers would be called to completely sweep an area before anyone else. Instead, they send in unarmed Dexter with his blood-geek bags first for a lurking murderer to take out? Come on!
We got a little bit of reminder material with Louis the intern, and they've paved way for him to return next season. I thought it was a bit funny that Travis opened that package he sent to Dexter first, though I don't have much more to say about that other than I'm sure he'll be a big part of next season. Commenters have noted that the search engine he introduced Dexter to — Eliot Search — was likely Louis's own site, used to track what Dexter searches and possibly planted a trojan on Dexter's computers. Dexter actually used a different search engine this time — something called "Net Wrangler" — but I like that theory.
So, writers of Dexter, my plea to you is this: kill the Deb-Dexter in love storyline dead in its tracks, and let's just concentrate on Deb's knowing about Dexter being a killer and the Louis storyline. Here, I'll help you out: Deb's shrink is the first victim of a new Big Bad next season, and Deb forgets this whole idiotic storyline about being in love with Dexter. Sound good? Good.
Photo Credit: Randy Tepper/Showtime