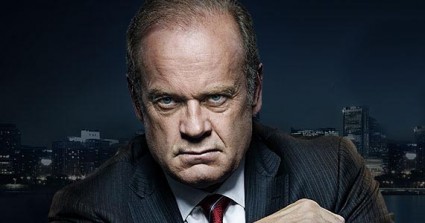 This year's been a rough one for new shows. While I could walk through all the new series I've tried — I attempt every new sitcom on network TV and premium cable, not to mention anything else that catches my attention, just to give you an idea of how long that list might be for this season alone — I passed on pretty much all of them, so I'd rather reflect on how shows I regularly watch have been doing these past four months.
Sunday nights have gotten crazy busy (for my DVR … I don't think there's anything I don't watch at least time-delayed these days). I was a returnee to The Simpsons a few seasons back, but this season … I don't know if it started out weakly, or maybe there's a limit to how much you can take of the same thing, but I cut it early on.
On the other hand, Family Guy has also been pretty much "more of the same," yet I persist. I just can't get enough of some of those characters … it's probably wrong, but Herbert the elderly pervert is hilarious!
I can't imagine myself giving up on The Good Wife, but man did it hit a rough patch this season. I'm not alone in thinking that the show does better when Alicia's not involved … what does that say about a series about her?
Homeland is one new show that's stuck for me. I still can't stand Carrie, but I'm enjoying the twists and turns in Brody's life, even if it is proving Carrie's craziness well-founded (I'm still a few episodes back, so no spoilers!)
I know Leverage has returned, but it's been so bad the last few seasons … we still haven't watched any of the new episodes. They're just sitting on the DVR for now. Same with Burn Notice … what happened, Mikey?
Boardwalk Empire easily wins the night for me (I'm a few episodes back here as well). I never disliked Jimmy before, like some people, but I'm enjoying him in his own, non-Nucky world a lot more this season. And how awesome is Steve Buscemi!
Mondays and Tuesdays are much quieter. I was watching Terra Nova for a while, but I gave up after realizing that nothing was happening. Geez, you'd think in a new world there'd be lots of cool things to do. But aside from people getting stuck outside the gates, there's no action that's at all interesting there. So I gave up.
I'm still hanging in with How I Met Your Mother. I have no idea what's going on with the mythology, or the continuing story lines. I just watch for Barney … totally worth it.
Castle's another one that I'm not following for the big picture. I like the characters, and it's a decent enough procedural. Esposito, Ryan, and Lanie are awesome, and they make the show that much better.
NCIS is also succeeding mainly due to its cast. I don't know if the stories are weaker, or if it's just hard to stay fresh after all this time, but the cases have been secondary (at best) for a long time. That said, the gang is still going strong.
Wednesdays have suddenly become full for me. Modern Family is a very funny show, and I continue to enjoy it on a regular basis. Award worthy? No, but that doesn't mean it's not funny. That's one we watch the night it airs (albeit delayed).
Criminal Minds is a show that I do let stack up, but just because there's nothing pressing me to keep current with it. I love it when I watch it … the characters are great, and they manage to keep it fresh. You'd think there would be only so many different kinds of psychos out there … not so.
I returned to Law & Order: SVU this season, and I'm so glad that I did. The new cast is gelling so well (Danny Pino!) that I can even stomach the horrors that they keep on churning out. I just hope Olivia's not going anywhere anytime soon.
Psych returned to form out of nowhere, didn't it? I love Shawn and Gus, but I felt the show dragging for a few seasons. Not anymore … this season was awesome, and I didn't even mind Shawn and Juliet's relationship. James Roday and Dulé Hill are a perfect team.
The Middle is easily the best show of the night. It flies so far under-the-radar, but the Heck family has perfected the upper lower class family, and the characters (save for Frankie) all feel so authentic. I love spending Wednesday night in Indiana with them, and I can't wait for them to get back from hiatus. And how about some recognition for Neil Flynn?
Thursdays are surprisingly quiet for me. The Office keeps chugging along … while Andy turned out to be a good choice for regional manager, the show needs to work harder at not making him a mini Michael Scott. We've seen some good promise this season, and that's something they need to build on. With Andy working as his own person (and Dwight headlining once again), I think a winning dynamic can successfully return to the show.
Rules of Engagement continues to work without making any effort at continuity or story. The show's a perfect example of good writers, good comedic actors, and good character chemistry. Jeff and Audrey are my favorite TV married couple.
Grey's Anatomy made a good move by throwing so much controversy into the mix this season. The show had been lacking tension for a while, but now there are all sorts of messes spilling out all over the place. I may not care about everyone involved, but I can tell you that I enjoy pressing play on a new episode.
I have no idea what's going on with Chuck. The show premiered so late that we decided to let it stack up while we catch up on everything else that we're behind on. And the truth is that other than Morgan and Casey, there's nothing I'm missing about the show. We'll eventually watch this season, but I don't feel like the show's being cut while it still has life left in it.
I don't know why Blue Bloods is fantastic, but it totally is. The cases are so-so, and the fact that Danny lands all manner of cases — that Erin's always the ADA on — is ridiculous, but the show is great regardless. From Henry all the way down to Jack and Sean (and pretty much everyone in between), I love the Reagan family.
Perhaps the best show of the season (for me) is a new, and controversial, one: Boss. A lot of people have trouble seeing Frasier Crane in such a dark role, but Kelsey Grammer has been phenomenal as Chicago Mayor Tom Kane. The show is rough in many places, and I don't like everyone in the cast (when do we ever?), but it regularly reminds me of shows like The Sopranos and The Wire, series that were dark, complicated, gritty, intelligent, and never transparent. I'm still a few weeks back, but I easily saw why the show was renewed before a single episode had aired. It's amazing.
And that's been my television season so far this year. How about you? What are you particularly loving/hating right now? Anything you're hanging onto for sentimental value? Is something stacking up on your DVR week after week? Sound off in the comments below!
Photo Credit: Starz