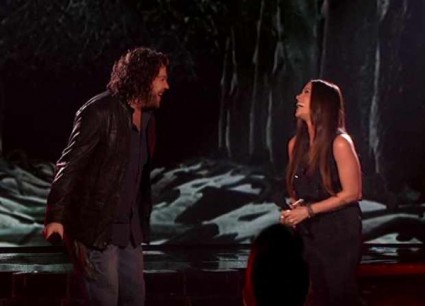 As usual, there was no shortage of drama during the finals of the first season of Fox's The X Factor. There were smoke and mirrors, background singers and special guests. And of course, to open the whole thing the "must have" of host Steve Jones screaming and demanding our excitement to the scary and majestic strains of "Carmina Burana."  The judges appeared in all their (ahem) glory, the three finalists looked ready to puke, and we were all set to go! (By the way. What in the holy living hell was Nicole wearing? That had to be the ugliest dress I've ever seen! It was obviously part Lady Gaga and part what? Rooster?)
But if you've been playing along with me these last few months, (and by that I mean either you've had a chronic low grade fever or we need to meet) you know I was snuggled up with my Snack Factory Pretzel Crisps and libation of choice, and I was primed and ready! My. That was a long sentence. I just wanted to put you "right there with me" though.  Give us a break!
So! The first go round we all kinda got the point after Josh's performance that we'd be seeing some duets between the contestants and a famous counterpart. Let me jaw about those individually …
Josh Krajcik and Alanis Morissette: I have so missed Alanis! She was my go to angry girl back in the day when I hated a boy and wanted him dead.  It was fabulous to see her again, and I must admit I'm looking forward to her next album release this summer. (Even if I'm not the jaded character I used to be? I'm wondering is she still is.)
Josh and Alanis looked as if they were having a ball, and the song was haunting and smirkily done. I really loved it. Yes, Simon was right in saying Josh was nervous at the beginning. He had a right to be, after all. He was first up and had to introduce the premiere "surprise guest" of the evening.  It certainly was not an eight out of ten though! That got me to wondering if Simon was intentionally manipulating the home viewer by casting aspersions on Josh to put votes toward his girl Melanie. (Huh. Maybe I am the jaded creature I used to be!)
Chris Rene and Avril Lavigne: Yikes! What a total mess. Chris was way off key before he brought her on for the duet. And together? They were off key. Avril seemed reluctant to hit the signature notes until the very end of the song, and Chris' voice just sounded like crap trying to meld with hers. Sorry. It's true. Nicole and Pauler gently pointed out imperfections. And again, Simon attempted to sway the voting away from Josh and Melanie's way by saying it "could be a record." Huh? I mean really Simon. Were you out having a "mental cigarette" during this performance? Geez.
Melanie Amaro and R. Kelly: Despite the judges referring to "I Believe I Can Fly" as iconic and inspirational, I have always loathed the tune. So I was predisposed to not liking this duet from the opening notes. The rendition mostly featured R. Kelly and lost Melanie. Oh. Except I guess if we scream "woah woahs" and "yeah yeahs" at each other while the choir sings backup then we're actually singing together! Who knew?
And, I know this is mean, but I was distracted by Melanie's "gown." It had kind of a see through-ish deal going on right at the "crotchal area" that was most unfortunate. But, I guess that's neither here nor there.
As far as the second songs? The "five million dollar sing for your life songs?"
Melanie's choice of "Listen" from Dreamgirls was completely predictable but awesome in it's grandesse. She and Simon have been smart in sticking to either Jennifer, Beyonce, Mariah or Celine type choices. That's who she is.
Chis made me go "Meh," with yet another rap somesuch.
And Josh took a great chance by going acoustic.
You'll see I didn't go into much detail about those on purpose. They each performed a "them song," which we've seen over and over and over and over and … what? Oh sorry. I just got carried away by the repetition of these contestant's repetitions.
I do believe I'm ready for this season of The X Factor to be history. I love Josh. He's the only one that I'd consider listening to in "real life." I called him out long ago as my pick. I wouldn't dare leave him now. The only thing I worry about is the intense fan support that Chris has for being so darn strong in his convictions and so freaking likeable. In which case, we'll see a finale on Thursday night that will crown a winner who is not by far the best singer or entertainer.
But a top vote getter.
Photo Credit: Fox