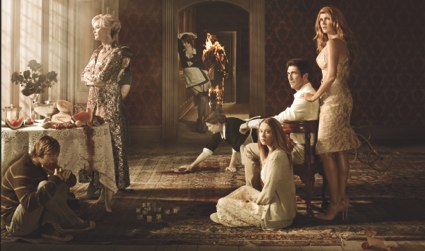 As much as I enjoyed American Horror Story's first season, I admit I'm surprised it lured in as many fans as it did, garnered a second season renewal so early, and got a few Golden Globe nominations to boot. Bro-in-law Bob maintains that the show's pilot was one of the worst hours of television he's ever seen, and I take his opinions of television shows seriously … most of the time. The show is unlike anything else I've seen on TV in some time, with a forever memorable opening credit sequence and not shying away from some pretty nasty violence and gore that at times put The Walking Dead to shame. Though the story started out somewhat confusing, seemingly with no plot whatsoever in sight, things quickly righted themselves and brought us to a hearty conclusion to the season.
What I believe most fans of American Horror Story don't know is that you won't be seeing the Murder House again. You won't be seeing Ben, Vivien, Violet or, most likely, the babies. No more Constance; no more Tate. That's because the first season was laid out as a self-contained story of its own, and co-creator Ryan Murphy and FX President John Landgraf made that very clear in a recent interview following the first season finale. You might see some of the actors cross over into season two in different roles, but the story of the Harmons and the Murder House is over. Next season: new building, new people, new locale.
First, let me start out with the good in this decision by Murphy & co.. As soon as I caught wind that the first season was a self-contained story, I thought Twilight Zone. It has all the feel of a story that I could see in Twilight Zone, The Outer Limits or Tales from the Crypt. Its ending often does not provide any finality to what you've been experiencing with these characters; it merely delivers the promise that there's more to come for these "people," and then leaves you the tools to continue the story in your own dreams and nightmares. It's finality in the sense that this is the complete story the creators meant to tell, right from the get-go, though perhaps not with all the details many questioning fans want answered.
I really, really like the idea that season one is over and out, and that we're diving into a completely new "horror story" next year. I'm a huge sucker for Twilight Zone shows and the like, so this is right up my alley. I've also been gunning for more shows to shoot for telling their complete story in one season — or for a show to simply last only one season — for some time now, and I'm hoping this show proves it can be successful.
Now, for the bad. There's a huge risk here in what Murphy and co-creator Brad Falchuk are trying to do. For one, all but those who keep their eyes peeled for TV news every week will be privy to the knowledge that next season will not pick up where it left off. Most viewers will be sitting down to watch the second season premiere, expecting to see that evil kid taking over the world in a murderous rampage, or the Harmons continue to Beetlejuice up the Murder House. Instead they'll not only see a completely different house and different characters, but some of those new characters might be played by actors from season one! Without adequate explanation, that's either going to piss people off to no end, or they're going to throw their hands up in utter confusion and give up on the show. What if the story next season isn't as compelling as the first? They surprised me by luring in people with the oddities of season one — can they really pull off a one-two punch?
What do you think of the plans for next season? Are you on board with forgetting everything from season one and starting anew? Did you even know about these plans until now?
Photo Credit: FX