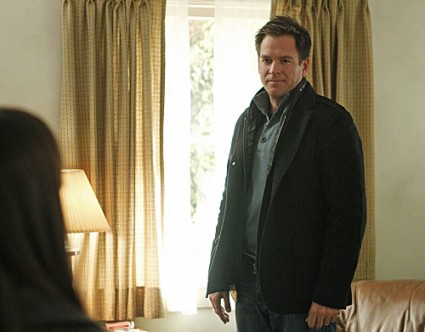 Last night seemed like a solid return for NCIS after almost a month of hiatus. Even with all the bad signs in the "Previously On" sequence, the case was shaping up to be an interesting one (for arguably the first time in a while), and the team was in great spirits for a fun night.
What happened in that car and who ran from it? Who was the murderer? It was a simple conceit, but all the ancillary characters were making for a good episode. I loved the old lady who couldn't remember what color the SUV was that peeled away, or what color hair the girl who ran off had.
And the motel clerk was awesome. You had to laugh at how honest he was about how cash, a name, and a smile could get you a room. Seemed like a nice fellow, even if he's not great for security purposes. Yup, it was all good.
Except that it was obvious from the previews that the mystery woman was EJ Barrett (Sarah Jane Morris). Might she be appearing somewhere else? Nope, that wasn't likely to happen, and the suspense the show tried to maintain all the way through the reflective windshield of that tanker was laughable in its transparency. I was actually disappointed in no one's ability to figure it out when Tony repeated "Naples." Hello!
Anyway, that's where the episode turned from having great potential to, well, being laughable really. Okay, so EJ is (much) more annoying than laughable, but she wasn't the only familiar face to return. First we got Secretary of the Navy Clayton Jarvis (Matt Craven), who is just ridiculous as top military brass. Gibbs' ability to essentially boss the boss around gives Jarvis less than zero credibility as an authority figure, making each of Gibbs' "Sirs" hilariously ironic. Come on, you know you laugh at that, too.
Then there was Scott Wolf, back as Casey Stratton, AKA Cole, the super mysterious assassin/mercenary. Bailey Salinger as the bad guy? They might as well cast baby Owen (as a baby) in the role. Wolf was bad enough the first time around, but at least then he seemed like an agent for most of his time on screen. But he does not pull off carrying a rocket launcher very well, let alone gutting Sean Latham (Philip Casnoff) with a knife. Come on … completely ridiculous!
I did enjoy the history lesson, though. I'd never heard of Belva Lockwood, but Tony and EJ's conversation about her sent me searching for information on the first woman to run for president. Seems Mrs. Lockwood single-handedly lobbied Congress for five years — successfully, I might add — to be allowed to argue before the Supreme Court, something women were not allowed to do before that.
And then, in an age when women couldn't even cast a vote, she ran for president, first in 1884 and then in 1888 (Grover Cleveland won the first time, before losing reelection to Benjamin Harrison the second). To be honest, it's surprising that she garnered any votes at all (considering women couldn't vote); her four thousand some-odd votes is pretty impressive in that light.
Anyway, the episode could have been good. But at least it made for some good laughs … and maybe now we're really done with EJ and Stratton?
Photo Credit: CBS