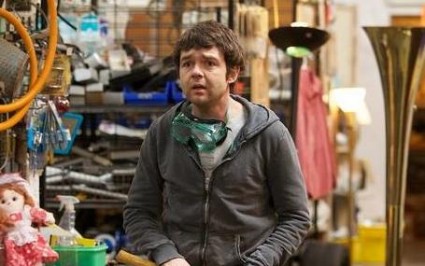 This chapter of Grimm was one of the lesser to come out of the young series. It was slow, tedious, predictable and offered little in challenging our imaginations.
There were a lot of missteps in the episode. The snake and mouse conflict (in Grimm-speak Lausenschlange and Mauzhertz, respectively) seemed forced and uncomfortable in the mythology of the series. It came across as if it was being jammed down our throats as the "creature of the week" offering; it most definitely could have been put together. (I'm not opposed to the weekly introductions of German mottle-named beasties, but cane we do so more intelligently, please?) How about "the "twist" … Marty's delusion of seeing his father's image in practically everyone he despises? That didn't even surprise me.
There were plenty more: Marty overtook Mason during their conflict and came out the victor? Really? Even Monroe mentioned one "rarely encounters a Lausenschlange and lives," so I reject Marty's rather easy triumph … regardless it actually happened. How about the glaringly obvious blood trail Marty left disposing of Leonard Krane's body? Or Natalie's gullibility toward Marty as his confidence changed?
I'm not opposed to building up the mythology of this series in the manner the writers have been doing, showcasing characters and creatures week to week. But let's nix the mediocrity … because it's not helping matters and it's not winning fans.
There were a few tidbits in this episode, however, as noted below. And the final one, which I dug with anticipation, was Monroe's promise to Nick with reference to his attack: "Next time … we'll be ready for them."
Notes:
One of the more notable nods to Of Mice And Men (which this episode was clearly borrowed from) was that of Natalie's boyfriend Lenny whose name was obviously "borrowed" from Lennie Small, the hulking, mentally-challenged protagonist of John Steinbeck's novel.
The Reapers Of The Grimm are back … and they had a bone to pick with Monroe. That being said, think about this: At the beginning of the series, Monroe was anything but willing to contribute to whatever Nick asked of him. Now? It's like he's practically champing at the bit to find out what the next "thing" is. Add to that the fact he basically told Nick to "bring'em on" where the Reapers Of The Grimm are concerned. (Though, he didn't know his assailants were those creatures …)
The minor thrill of this installment for me was seeing Fred Koehler (Torchwood, Lost) who displayed his customary meek persona he's so good at portraying. He was definitely in character as a Mauzhertz with appropriate mannerisms and facial angst. I can't think of too many actors who would have fit the bill as well as him.
Photo Credit: NBC