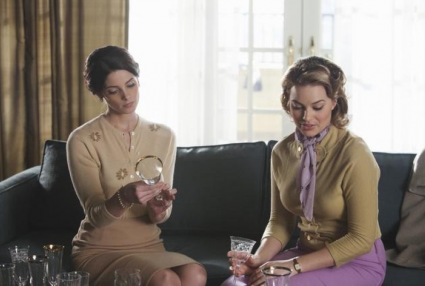 Hey, boys and girls, you remember that one episode where Laura posed for nude photos? You don't? It was the same episode where the whole Maggie/Dean/Ginny storyline was resolved. Wait, that's right, we never saw that episode of Pan Am, titled "Romance Languages." It was originally scheduled to run seventh in order, on November 6th of last year. Instead, ABC aired "Truth or Dare," and just hoped we wouldn't remember that we last saw Maggie ratting Dean out to the brass to save her job (I was blown away when it was actually brought up in this episode). Or that, when the nude-photo storyline came back around, that we wouldn't remember that we never saw it. Yeah, ABC … it didn't work out well for you.
It is nice to see that Kate is finally getting the training that is so critical considering her constantly growing responsibilities. When she was just a simple courier, it was one thing; now that she's turning assets and picking pockets, there is a certain skill set that she should have. One thing that she's proven she doesn't necessarily need to "learn" is the seduction side of espionage. The way she worked her mark in Rome was textbook. The most important aspect to that particular assignment is confidence, something that she hasn't necessarily had until recently. She is growing into the role quite well.
Ted's story with Amanda worked itself exactly to the place I figured that it would. I was surprised, though, at how open she was with Ted about the type of arrangement that she was looking for. She came across in a much more positive light than I expected as well. I think the kindness with which she approached Ted went a long way in that regard; she does seem to genuinely love Ted on some level. The only thing that kept us from seeing his obvious response was the news broadcast that clued the audience into the fact that the episode's last scenes were set on November 22nd, 1963.
For fans of other period television dramas, Pan Am has a lot to live up to when focusing their stories on the Kennedy assassination. I'm not the biggest Mad Men fan around, but that show did an outstanding job of showing the emotional gut punch that the country took that day. Maggie will likely be the character whose eyes we see that story told through. I'm really looking forward to how things will play out. It will be decidedly more interesting than her being recruited into rough and tumble world of international smuggling.
The focus on Dean's response was a little puzzling, though. While there's no reason why anyone shouldn't have been affected, it was enough of a moment for Colette to feel the need to comfort him – something he was entirely undeserving of. Sure, he'd told her just moments before that he would take the step back that she needs, but that doesn't make up for his actions — sleeping with Bridget, not necessarily the bit with Omar. He has a long way to go to truly make his actions, if Colette will ever give him the opportunity.
Without belaboring the point about the missing episode anymore than I already have, it is difficult to buy into Laura's story. We don't know what prompted her to take the pictures in the first place. Seeing the evolution of where the decision leads — potentially being a model for Andy Warhol, is difficult when you don't know how the story started in the first place.
Looks like Pan Am is taking a couple of weeks off, with ABC's airing next week of A Smile as Big as the Moon, and staying far away from new programming against the Super Bowl the week following (Though considering the game is featuring the Giants and the Patriots, I think I'd rather watch Pan Am). We have to show a little patience to see how our favorite flight crew reacts to the passing of President Kennedy.
Notes & Quotes
Was that Laura's old camera, or the one that was confiscated in Russia?
"She says I'm in love with two women – and I don't even think that's possible." – Dean
"Technically it's possible to love three women … although I'm not going to go into the specifics." – Ted
20 out of 535 only rounds down to 3% if you round the wrong way.
Photo Credit: ABC/Eric Liebowitz