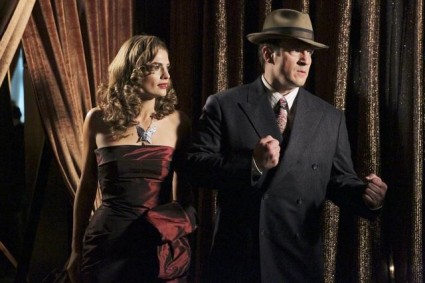 I've always been a big fan of episodes like "The Blue Butterfly." JAG, in particular, always did a wonderful job with their Christmas episodes where the main cast took on a flashback story, generally set during World War II or Vietnam. Castle took on 1947 and old-time film-noir flicks all at the same time, giving fans an opportunity to see their favorite characters in very different scenarios.
If 1947 Joe and Vera can make a relationship work (and how beautiful were the older versions?), it gives one hope that their modern day counterparts can as well. I enjoyed their story: star-crossed lovers, he a gumshoe and she the arm candy of one of New York's biggest mobsters. I loved how the layers were pulled back on the past, one clue at a time. When one source dried up, the team was able to find another way to follow the story – first the diary, then the police statement and finally Jerry and Viola filling in all of the details.
I'm sure that there is many a Lost fan who loved that Mark Pellegrino played a character in both timeframes. The "magic" reference made the connection all that more cuter. I'm glad that Pellegrino's work on Lost has lead to more TV work for him (including a great run on The Closer), but I'm hoping he gets a good look in this year's pilot season.
The last couple of episodes of Castle, I've complained about how the team will update each other, or share theories, in front of witnesses. I hate to be nit-picky (OK, I don't really), but it continues to be a bad habit that the writers are letting these professionals get away with. This week's entry into that "list of stupidity" was when Ryan and Esposito interviewed Westside Wally right in front of the murder board (Though, them being called Cagney and Lacey did somewhat make up for it).
I skipped the :45 minute guess this week, because the episode didn't follow the normal episode conventions. The "who" of each case – well, at least the 1947 case – was much less important than watching the story unfold.
Notes & Quotes
"Beckett, can I take [the diary] home for the night? I mean it might be the key to what Stan was looking for." – Castle
"You just want to read it because you think it's cool." – Beckett
"Yeah, well, that too." – Castle
"Just so long as you … [Castle is already walking away] bring it back in the morning." – Beckett
When Joe Flynn mentioned the shrapnel in his hip, did anyone think he should have been named James Frederick "Minnesota" Ryan?
"The 'Blue Butterfly!' It's a necklace! That's why Stan Banks was killed … Why am I narrating?" – Castle
"It happened backstage: right upstairs. They were stealing a moment together, which was dangerous because she was Dempsey's girl. As they stared into each other's eyes, Kate's heart quickened [record scratch smash cut]." – Castle
"Did you just say, 'Kate?' Are you picturing the PI as you and me as the gangster's girl?" – Kate
"What? No! And I didn't say 'Kate,' I said 'fate.' 'Fate's heart quickened.' I was being poetic." – Castle
"And?" — Beckett
"And … that's it. That was the last entry in the diary." – Castle
"What do you mean that's it? What happened to Joe? What happened to Vera?" – Beckett
"I don't know." – Castle
"Well why would you tell a story when you don't know the ending?" – Beckett
"If you wanted a beginning and a middle and an end, I have 27 novels you could choose from." – Castle
Ballistic records apparently go back to the 20's. Now you know … and knowing is half the battle.
Photo Credit: ABC/Karen Neal