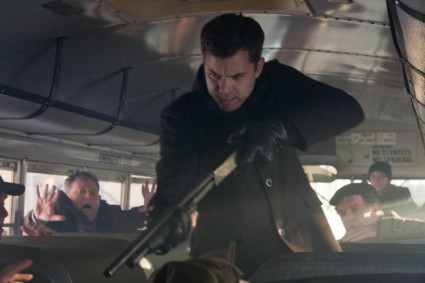 For weeks now, I've been guessing that while Peter is in a different timeline, he is in the same universe that he left with "his" people. And, this week's Fringe, "Welcome to Westfield" provided more support for that theory.
When Peter returned, he returned to "his" people, but they never knew him and weren't influence by him over the years. But, now that Peter has returned, they are adjusting and starting to remember him. It felt like Peter was with his Olivia and his Walter throughout this case.
Olivia started to dream about Peter. And, a relationship with him. Then in Westfield, she recalled the case in Edina, but she never worked that case! Old Olivia worked that case with Peter and Walter. That was odd, indeed! What was happening to Olivia? She felt like someone else was in her head.
Walter has started to love Peter and has opened up. He even left the lab to go into the field … on his own. Even Olivia noticed that Walter was responding well to Peter and sent him over to Walter to work together to find a safe place for them to go in Westfield.
While the experience of Westfield was about the two universes colliding and merging into one within the town at the hands of David Robert Jones, could the same be happening between the two timelines? Instead of Peter simply influencing those around him, could the timelines be merging?
How touching was the conversation between Peter and Olivia about his past and relationship with his Olivia. I loved when Peter said, "She gave me a place to call home. A place I'd want to call home. Eventually we even had our own thing." Did Peter telling Olivia the story about his Olivia spark her memory? How is it happening?
And, then Walter. Poor Walter! He started off not wanting to get to know Peter at all, but now he is sad that Peter wants to work on the machine to get home. That look of disappointment on Walter's face was priceless. He clearly loves this Peter, is he remembering as well?
How amazing was this simple line, "What do you mean? It's Friday. I ordered Damiano's" from Olivia? And the kiss! She kissed him! And, Peter's reaction, "W-hoa, Olivia?" She doesn't seem to remember that her and Peter aren't together. Have Olivia's memories been merged? Or, is she the new Olivia who just remembers Peter now?
How will this change the timeline? Is David Robert Jones alive or dead? Does Olivia remember meeting Peter as a child or did she still kill her stepfather? What about Nina? So many questions … until next week, I guess.
I don't usually comment on the glyphs that are shown before each break, but tonight's spelled out: Olive. Is she back?
Is Peter home? What do you think is happening?
Photo Credit: FOX