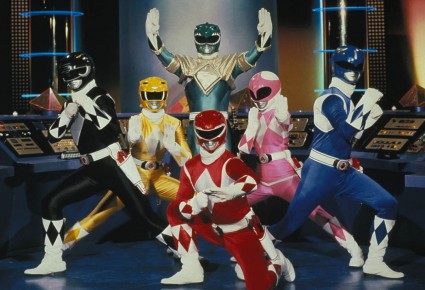 It is common knowledge that I have a thing for people in spandex. I do. It's true. Now, before your mind begins to drift to naughty places, please give me a second to clarify my statement. To be more unambiguous, I have a thing for superheroes. Without hesitation, I'll admit that I am a card carrying nerd and proud. Growing up, I found myself frequently daydreaming of solving crimes while working in a Batcave, expertly piloting a sleek Invisible Jet, and climbing brick walls like everyone's favorite neighborhood web-slinger.
Oh, those were the days.
However, what some individuals fail to realize is that there are other superheroes besides the ones produced by comic book powerhouses Marvel and DC. On the contrary, I can list six conquerors off the top of my head that graced my old Zenith television screen every day after elementary school. Need a clue? Their colors can be found in the rainbow … or any Skittles commercial after the year 2000. That's right, folks. I'm talking about the Power Rangers … the Mighty Morphin Power Rangers to be exact.
What started in August of 1993 on Fox Kids, one of the more popular kids programming blocks of the decade, soon became a television phenomenon, and needless to say, I was undoubtedly addicted. What was it about these rainbow colored adolescent teens that thrilled me so? Was it the gleaming metallic morphers they utilized to transform into their butt-kicking alter egos? Or maybe it was the colossal robots they called on to defeat monsters of gigantic proportions. Perchance it was the tacky Japanese footage from its Super Sentai counterpart spliced with new American footage in order to make the show coherent. Whatever the case, I was hooked like a fish … or Lindsay Lohan at a crack convention. I digress.
You see, the thing about the Power Rangers wasn't that they had cool weapons … although, hands down, the Pink Ranger's power bow was downright amazing. It wasn't that they were hip … although, without a doubt, the Black Ranger's dance moves rivaled any form of today's ridiculous pop, lock, and drop it routine. No, the Power Rangers helped teach me the facts of life – fundamental truths and proofs that I didn't have to glean from four young women at the fictional Eastland Academy.
Every episode of Saban's Mighty Morphin Power Rangers featured a valuable lesson such as the power of teamwork, working hard, studying, maintaining friendships, and influencing people. In fact, I'm willing to bet that I'm a better person just because of those six teenagers with attitude. Well, that and going to Sunday School every week. Yeah, I'm pretty sure that had something to do with it too.
Of course, it was more than the lessons that kept me coming back. When Trini the Yellow Ranger took down the evil Mantis monster by herself in episode 48, Plague of the Mantis, I was floored. When Tommy the Green Ranger first summoned the colossal Dragonzord out of the ocean in Angel Grove's abandoned warehouse district in episode 21, Green with Evil – Part V, I nearly lost my shitake mushrooms. Jason the Red Ranger oozed testosterone. I mean, he practically shouted all of his damn lines. Billy the Blue Ranger was the epitome of the word genius. I'd get a kick out of Kimberly the Pink Ranger ferociously shouting, "Pterodactyl" to morph into her alter ego, and Zach the Black Ranger had the coolest weapon of all — an axe that could double as a cannon. Wicked awesome! Plus the heavy rock and roll theme song was enough to get me pumped for every episode. All in all, a pretty lethal combination.
While most individuals grew out of the series as they got older, I simply stayed put. Call it a desire to stay young. Call it the beginning of my path to becoming a nerd. I don't care. All I know is that I was a dedicated fan. When the series began reinventing itself every year with new themes and plots, I chose to tough it out. After all, how hard could it be, right? When they switched to Zeo, I simply 'zeonized' my power along with them. When they went Turbo on a brother, I merely gained an interest in automobiles. I traveled with them In Space, watched them fight bug-eyed monsters in the Lost Galaxy, take on lame looking demons in Lightspeed Rescue and race back to the future in Time Force.
It wasn't until Disney took over in 2002 that the power began to wear off with such lame entries as Jungle Fury, Mystic Force and Operation Overdrive. After Saban required the rights in 2010, I was officially done. I was in my senior year of college and I didn't have time for rangers any more.  Instead, my mind was centered on anti-nerd things such as women and Star Trek and women and Star Wars. Still, that didn't stop me from re-watching old-school episodes on YouTube from time to time. Just last month, I re-watched the entire season of Time Force on Netflix while forcing my best friend to join me … much to his chagrin.
It seems I'll be a nerd forever, and that's just fine by me. With the newest installment of the series – Power Rangers Samurai – currently airing on Nickelodeon, it seems the rangers will be around forever as well which warms my heart. It's common knowledge among my friends that it will be a law in my house that every child of mine will have to watch Power Rangers. Heck, I may even replace Sesame Street with it. Okay, perchance that's taking it a bit too far.
Still, make no doubt it about, the Power Rangers rock, and as far as I'm concerned, they're downright amazing!
It's morphin' time!
Photo Credit: Saban