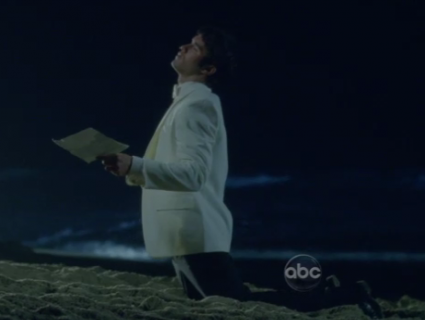 Finally Revenge will catch up to Labor Day weekend with this week's episode, "Chaos," and we will find out who was shot on the beach! I've been speculating since the fifth episode, "Guilt," that Tyler was the one that is shot and potentially killed on the beach. But, the promo for this week draws that into question … or does it?
It definitely looks like they filmed the beach scene again from the pilot, which would make sense. The above picture definitely shows Daniel falling down on the beach, unlike the original scene in the pilot which was unclear. But, there seems to be much more to the story after reviewing the additional picture below also from this week's promo.
Why does he have gloves on? Daniel doesn't have gloves on when he initially falls. If it is Daniel why would someone put gloves on him? I still think the below picture is more likely Tyler; somehow he escaped from prison or the psych ward, wherever he's been held. We know that someone broke into Emily's hidden compartment — most likely Tyler.
Tyler wants revenge! Here's my theory: he showed up at the party dressed up like Daniel to kill someone and that's why he was wearing gloves. But, someone was there to stop him. Jack? He was seen in the pilot dragging the body into the brush.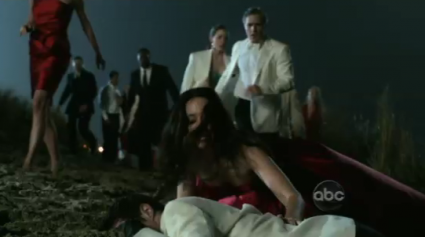 Here is a close-up of the above picture of the head and a tilted picture of Daniel's head from the top picture. I wasn't able to find a picture of Tyler from that side of his head to compare. At first glance, I was sure the picture with the glove was Tyler. It just looked like him. But, after putting the picture of Daniel next to it, I'm not sure!

Thankfully, we only have a few more days left until we find out the truth!
What do you think? Could more than one person have been shot on the beach? Vote for who you think was killed on the beach!
The poll closes Wednesday at 10 pm ET when "Chaos" begins!
Who was killed on the beach?
Tyler (70%)
Daniel (21%)
Someone else - specify in the comments (10%)

Loading ...
Share your theories in the comments!
Photo Credit: ABC