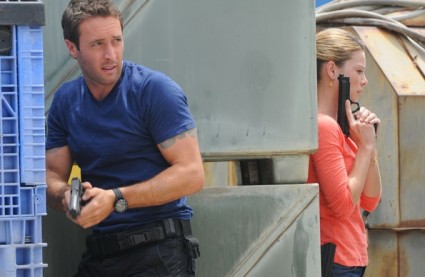 Tonight's episode of Hawaii Five-0 had a scene that many viewers (myself included) had been hoping for: the apparent departure of Lori Weston (Lauren German). But as much as I never liked her, it might surprise you to know that I'm not necessarily jumping for joy at the moment. I'm glad she's gone (if she's gone), but her leaving fingers something that's really starting to nag me about this show: what is up with the women?
(If you're named Kono Kalakaua or Grace Williams, you may skip this argument.)
I'm not sure that the Five-0 writers have a clear idea of what they want to do when it comes to the fairer sex. Let's take Steve's love life as an example: he appeared to have a relationship with Catherine Rollins (Michelle Borth), only for them to break up in the fourth episode of this season. After she left, we got a ton of obvious flirting between him and Lori. Now, in the same episode that Lori admits that she has feelings for him, Catherine is back and they've apparently been back together for some time. What changed and when did it change? And if it was going to change, why did the writers put us through another scene of Steve and Lori being all cute together last week? (It's also kind of funny to note that Lori left the same way Catherine did: with an awkward hug in Steve's office.)
I don't care who Steve dates (given how many women swoon over Alex O'Loughlin, myself included, there's going to be a romantic subplot), but I want it to feel real to me – and not have the important parts skipped over.
This is also true for Danny. We spent all of last season thinking he was going to reconcile with ex-wife Rachel (Claire van der Boom), only to find out they'd been having an affair and that she might be pregnant with his baby. It was like a plot twist out of Maury. The kid turned out not to be his, so the show gave him a new love interest in Gabrielle Asano (Autumn Reeser), who appeared in all of two episodes. She hasn't been seen or mentioned since episode seven. Yet this week we hear Danny mention getting "something for Gabby." Did these two become a couple? And when did that happen?
Lori's departure is also representative of another problem the show has unsuccessfully tried to tackle: finding a second female lead to work alongside Grace Park. You'll recall that they tried this same "new addition to the team who might have a thing for Steve" concept last year. Her name was Jenna Kaye. She was supposed to be a regular, but never made it into the main credits, and eventually died. Lori fits the same description, Lauren German was touted as a regular, but left as "also starring," and now she's gone, too. That's twice (three times if we count Taryn Manning) that the series has talked up a new regular, seen the character not quite work, and then axed them. Here's a suggestion: perhaps we should lay off on the new characters? Or if we're going to persist in looking for one, try them out for an episode or two before we rush them to regular status?
I get that sometimes things don't work; I'm a writer, and I've scrapped plenty of concepts that I once loved. The difference is that my deletes and edits don't show up on screen. It's unfortunate that all the missteps happen to involve women, but I think the real issue is that the writers just have to take a few steps back and decide what they really want. I still like this show, and I'd love it a lot more if it laid off on the girlfriends and new sidekicks, and just got back to Steve, Danny, Chin and Kono being awesome, because they still are. That part's never changed.
[easyazon-image align="none" asin="B003R4ZMNQ" locale="us" height="160″ src="http://ecx.images-amazon.com/images/I/51K5hBWSHCL._SL160_.jpg" width="112″][easyazon-image align="none" asin="B005PYHNQU" locale="us" height="160″ src="http://ecx.images-amazon.com/images/I/515gP08vImL._SL160_.jpg" width="112″]
Photo Credit: CBS