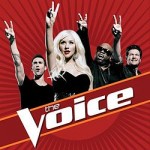 I'm noticing a trend this season on The Voice: There are lots of hopefuls who have the technical skill, but seem to be holding back. They just don't project. And not doing so isn't working for them. Conversely, there are many who can — and have — let fly, but they are raw and unrefined. I'm rather digging some of these contestants and curious to see how the coaches guide them.
But we have a way to go yet before we start traveling down that road.
In the meantime, we have Blind Auditions still to navigate.
And cripes … they're dragging. Know why? Because in two hours' time, we (sometimes) slogged through 21 hopeful contestants. 21 … !!! ¡¡¡Hay Chihuahua!!! Some were really trying my patience, you know that? The first two? Ducky and Jonathas? Let me tell you something: Carson stated words to the effect The Voice has obtained the best talents to compete on the show. So … Ducky and Jonathas? I don't think so. They were nowhere near "the best" … not by a long shot, Carson.
You want to know who had voices this episode? Tony Vincent. Good, but weird in various parts of his "We Are The Champions" tune. Jamie Lono and his gooftastic look had a voice, too; he performed a kickin' "Folsom Prison Blues" for us. They were worthy.
Ducky and Jonathas were not.
You know who else I think could be worthy, though he didn't make it? Big 'ole Eric Tipton, that's who. "I'm a six foot, 300 pound white guy that sings soul music. My music is about soul … and if you can make them feel something, then you don't need an image." I would have loved to have heard that guy emote some soul. As it was, he didn't seize the opportunity as he should have. He squandered it. He didn't mean to, but in hindsight I'd be willing to bet dollars to donuts he realized in the end he short-changed himself. I'm hoping for the chance to see him again as they did with the "let-go's" last season. Give him a second chance and he won't flub it. We'll see.
Of the remainder of the 21? Well … we didn't catch but a glance at Nathan Anderson, Luna Searles and Adam Lasher, but we'll see more of them down the line. One more I really took notice of was Naia Kete and her cool little yodel. It was a kick she ended up going with Blake. I don't care what anyone says, that's an odd pairing … but one I'm looking forward to.
One more mention: Anthony Evans, the 10 years wise gospel singer. Horrible, horrible choice of song. His "What's Going On" was weaker than weak. Rather wet raggish. I'm a bit surprised anyone spun their seat at all … and, if not for Christina, that wouldn't have happened. I would expect someone with that much singing experience — and in front of an audience, no less — to be able to tread the boards with better connection than he offered. (Listen to me … like I could do any better. Hey, I know what I hear.)
Next week? We're treated to The Lorax as a "guest coach" on The Voice. Man … am I glad Brittany is taking that one.
Gripes:
Post Anthony Evans performance, Cee Lo stated he "… really got emotionally involved" in the song. Bullshit. Come on … don't jerk the contestants around like that. If Cee Lo was so emotionally involved he would have pounded on that button and spun his damned chair around. Period. Don't give me that "emotionally involved" guff.
Much as I like Blake, I don't like his "in your face" reactions and taunting at the other coaches when he earns a new team member. It's classless.
Notes:
Did anyone find it a little creepy Carson went in for a big 'ole hug of Tony Vincent's wife after her pregnancy news? And then, back in the waiting room with his Vincent's wife, Carson looked a little sad when Tony hugged her as she congratulated him post-performance. What?
After his post performance discussion, Anthony Evans didn't greet Christina after winning a spot on her team … nor did she do anything whatsoever other than offer a curt congratulations as he made his way off stage. No hug. No winky-wink. Not even a hearty handshake. How long do you think Anthony's going to stay around? I'll tell you how long: Not at all. He'll be gone in the first elimination. Mark my words.
Contestant Charlotte Sometimes (real name Jessica Charlotte Poland): Really? I know her name is taken from the book of the same name by Penelope Farmer, but I wonder if she's ever heard of The Cure's "Charlotte Sometimes"? Doubt it …)
Quotes:
"I pushed my button for you." — Cee Lo
"You push all my buttons." — Contestant Naia Kete
"Tony: What do you think of yourself?" — Cee Lo
"I think I kick ass …" — Contestant Tony Vincent
[easyazon-image align="none" asin="B001DDCVCI" locale="us" height="160″ src="http://ecx.images-amazon.com/images/I/41g7rF97ImL._SL160_.jpg" width="91″]
Photo Credit: NBC