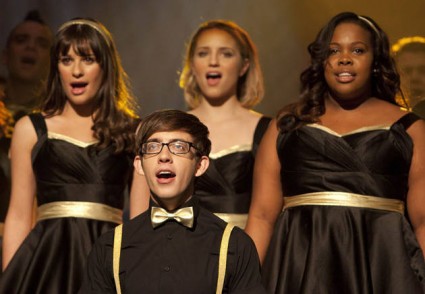 Well. At least New Directions won the Regional competition this week on Glee. It was one of the only bright spots, as the writers went to some very serious places.
First and foremost, we saw David Karofsky face the same kind of bullying that he had done to Kurt in the past, and attempt suicide because of it. As a result? Everyone went through changes and reevaluation. Once again Glee has taken on the subject of harassment and bullying in the schools, and I'm behind it. I often think how hard kids have it these days. I was bullied badly in grade school by a certain someone, but at least I could go home at three o'clock and be done with it for the day. Now? There's not the same option. It's much more relentless due to the internet, and all of its myriad ways of people using it for unending cruelty if they so wish.
And that's exactly what we saw Karofsky's character go through. I told you last week that his classmate who overheard he and Kurt talking in Breadstix would cause a problem. And holy smokes did he!
We saw some great moments in the scene with Mr. Shue talking to his kids in an informal setting and relating his own personal story about getting caught cheating in high school and thinking of suicide. Say what you will about this show, but I love the genuine relationship between teacher and students here. I think the writers have been brilliant in conveying the bond between the Glee Club and their leader. And the quick round table discussion about focusing on the future and knowing that "these things too shall pass?" A good lesson for us all.
Kurt's scene in the hospital with Karofsky was along the same vein, and rather a tear jerker. If you haven't noticed? There's tons of elements of forgiveness on Glee. Yes, major dramas between the characters. But usually going back to the idea of reconciliation and trying to find a place of understanding.
Until the next freaking drama, of course.
So now that I've gotten introspective about this episode, you know  I have to snark a bit. Hey. It's just how I roll …
Sue being pregnant is ridiculous. It completely does not gel with the original plot set up of the character. She started out as one of the most excellent villans on television. Then we saw her softer side. Then she was a witch again. Then her sister died, and she took Becky under her wing. Then she was horrible again. Then not. Ya follow?
This flip flopping has sometimes been interesting, but having her become a Mother? I fear it's going to kill everything we secretly loved about Sue.
And lastly. Rachel and Finn getting married. Or maybe not?
Jeff Goldblum (her Dad) was making me heartily chortle with his ideas on how to break up the wedding. And this wedding won't happen. It would stall Rachel and Finn's story line completely. (Which has already gotten boring.) Mark my words. The only way they're going with this is by Rachel and Finn breaking up yet again.
Quinn getting into what looked like a horrible accident at the end of the show was a shocker. Do you think they'll kill her off, as it's her senior year and she'll be off the show next season supposedly?
Are we in for an episode about texting while driving next time?
We'll see on April tenth.
If you enjoyed the songs on this week's episode, you can purchase the from Amazon.com through the links below … and you'll be showing your support for CliqueClack with your purchase. We thank you!
Photo Credit: Fox