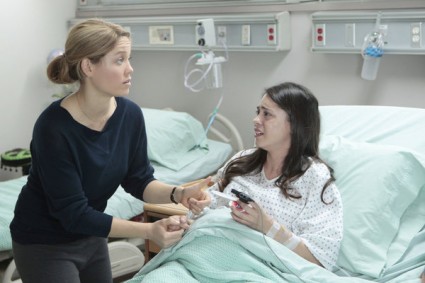 I love you. Three simple words. Yet, three of the most powerful words when strung together. Tonight's Parenthood was perfectly titled, "Remember Me, I'm the One that Loves You."
Most things in our world are finite, but love … you can never run out of love to give or to receive. And, sometimes, love surprises you.
Crosby and Jasmine
Finally! Yes, Crosby messed up last year. I was disappointed back then that Jasmine wasn't able to look at the big picture and forgive him. Ultimately for them, it was a good thing that they broke their engagement. Over the last year, they both have grown and become more mature. They also have had the opportunity to figure out what they really wanted. Jasmine has the "perfect" man in love with her, but sometimes that isn't enough.
Crosby and Jasmine have something special. And, they found their way back to each other! Instead of Crosby chasing after her, Jasmine proposed to Crosby. What a huge moment! The love they have for each other is amazing; it just took some time for them to be at the right place.
Unfortunately for Joe and Crosby's girl, they are going to be left behind.
It looks like there's going to be a wedding!
Julia and Zoe
When Zoe told Julia, "I love you," my heart both swelled and broke for her. It's was clear that she moved out because she was growing too attached to Julia, Joel and Sydney. She was in the middle of labor when it's natural for emotions to be high, but it was such a touching moment. Julia looked surprised at first, but then, she realized how much Zoe has come to mean to her as well.
During the birth scene, I was surprised I didn't tear up or cry at first. I'm a cryer. Yep, I am. Not embarrassed. But, the moment that Zoe said she didn't want to hold her son and Julia took him in her arms, I busted out crying. It was a special moment. Heartbreaking and joyous at the same time.
Will Zoe keep the baby? I don't know. Julia overreacted to seeing Zoe with her son. She should have gone in and talked to her, but I also understand how she was gripped with fear in that moment. Zoe looked like she belonged with her son, but that didn't mean she wasn't going to give him up. The way she looked at Julia and then her son, Zoe was split between the new love for her son and her feelings for Julia. Zoe was in a no-win situation in that moment.
The high to low that Julia experienced within a short time was excruciating to watch. From the joy of walking in the hospital with Joel and Sydney to meeting and giving the look of concern to Joel at the elevator to breaking down. Erika Christensen portrayed Julia's joy at the birth to the pain of thinking she had lost him so authentically. I  felt like I was right there with her.
Whether Julia and Joel realize it or not, Zoe has become part of their family even more than the son they have been expecting. She needs them. Whether they adopt Zoe's son or not, I hope for all of them that Zoe and the baby move in with them. They have enough love to go around.
Sarah and Mark
Their relationship started out with such potential and one of my favorite to watch on the show. Unfortunately, I'm not sure they really are in a relationship. Instead, they have become play things. They are playing a weird form of house that kids play when they are young. They decide they want to have a baby, but don't have a single conversation about what that really means.
Where are they going to live? Seriously, at least have a conversation about getting married. There's no reason they need to get married, but at least be adults about it and consider it. Now, Mark wants them to move to New York in a year. Just like with having a baby, their conversation was more dreaming and fantasy than reality. Mark seemed surprised that Sarah actually reached out to someone in New York about getting work there.
Sarah and Mark need to take a step back into reality and discuss what it is they really want together.
Luncheonette
Would you give up your dream for money? The Luncheonette is Crosby's dream, but it is Adam's job. The disparity in their positions is going to come to a head. Is there a compromise? I've tried to put myself in both of their shoes and I don't know which of them is in the right, because neither of them is wrong. Well, except that Adam never should have gone to the meeting without Crosby. Or, shook on agreeing to convince Crosby.
Amber
I felt for her situation. Kristina overstepped by busting into the hotel room, but she did it out of love and concern for her niece. The moment that she told Amber she loved her was touching. In the end, Amber needed the love and comfort of her mother.
Amber and Bob do have a connection, but dating the boss is a dangerous road to take. Which will Amber choose?
Next week is the Parenthood finale and given the show's low ratings, it may or may not get renewed for another season. I'm not ready to give up my weekly dose of the Bravermans, are you? Next week's finale will be bittersweet!
[easyazon-image align="none" asin="B007C21NNW" locale="us" height="120″ src="http://ecx.images-amazon.com/images/I/51AoUzi717L._SL160_.jpg" width="160″]
Photo Credit: NBC