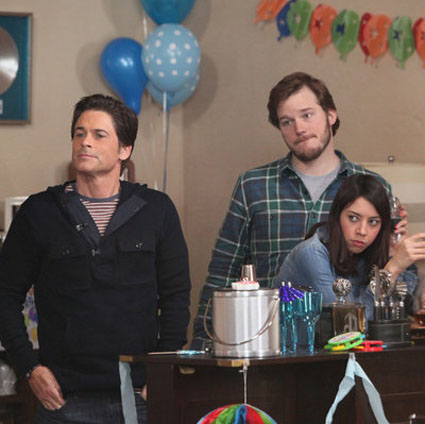 Watching this week's Park and Recreation, made me think about Rob Lowe. I love Rob. Post-'80s brat pack revolution, he evolved into an amazing actor, with a great sense of irony. But, once he maps the hell out of a role, he moves on to the next awesome thing. His seven years on The West Wing felt too short; likewise for his time on Brothers and Sisters. He'll have 34 episodes on Parks and Recreation by the close of season four. Hmm. Two years; isn't that when Rob's feet start walking?
This week surrounded Leslie discovering that she couldn't work two jobs at once while Tom and Ann continued to contemplate their non-relationship and Jerry celebrated his birthday (in leap years, Jerry is 16). Although Chris took a partial back seat this week, he continues to explore his newfound loneliness by discovering a new relationship with Andy and April's tripod dog.
Maybe it's because Chris doesn't feel as awesome as his season two introduction that I fear Rob might move on. At the same time, are the writers giving him this new character direction to keep him invested? Considering how awesomely hunky the Lowe is, I love the writers' irreverence with him. Remember the valentine's day episode when Chris claimed people thought he was in his 20s and Leslie called balls? I loved that! Rob Lowe is film and TV history. But, where else will people blatantly mock him without falling down and exalting his talent?
So, while I still fear losing Rob, because his role has gotten smaller (possibly due to his playing Ulysses S. Grant and Captain Marvel or because he's planning on trundling off), I'll enjoy him while he's still there.
On the rest of the episode, I love the show's continuing character growth. In season one, Ron seemed like the worst administrator possible. But, in season four, despite his anti-human tendencies, he knows when another worker, i.e. Leslie, needs time off. I enjoyed their quiet moments together throughout the episode, exhibiting kickass writing.
I also love that Donna and Jerry are no longer the one-note one-line characters from season one. Throughout the past few seasons, the writers dropped hints that Donna liked the finer things. However, while Tom just maxed out his credit cards and returned things a day later, Donna never did that. So, I always wondered how Donna afforded her luxury car on a Parks and Rec salary. This week I learned the reason. It makes total sense that her family's rich and she's cousins with the genuine GINUWINE! Does that mean he'll guest in a future episode? I hope so!
Although I like the loser-tendency the writers added to Ann both this season and last, her relationship with Tom creeps me out. Yet, it simultaneously demonstrates Aziz Ansari's incredible talents. In season one through three, Tom played the creepy one-dimensional player and insane entrepeneur with sprinkles of vulnerability surrounding his ex-wife and bartender girlfriend. Although Rashida Jones is way too hot for Aziz, season four explores a cartoonish, uber-clingy baby-talking Tom. The fact Aziz can play so many shades of sleaze so convincingly is amazing. But, the clinginess is too much. I went to see the character step up to justify why the previously most level-headed character (Ann) would date him. Also, could Ann and Chris get back together? Chris always looks sad when Ann discusses her new relationship. I know he hates loneliness, but could he still have feelings for her? I'd love to see them together without Ann cloning our hyper-futuristic healthnut.
Finally, in terms of the show's youngest character, I enjoy watching April grow out of her season one one-note goth character while maintaining her utter hatred of everyone.
So, although both Chris and Ben have taken second platform this season, their addition to the cast definitely  signaled a growing change within the show's writing. I know Lowe has a multi-year deal, but, he's currently hitting year three. If either actor decides to move on, I'll miss them. But, hopefully, the show's kickass awesomeness will remain.
Notes:
Tom is "The Brown Gosling"
Tom and Ann's mash-up name – "Tan(n)"
Quotes:
"Is this all the eggs, you have" – Ron  (holding 2 dozen eggs)
"Yes. What are you making?" – Donna
"Eggs." –  Ron
"Never half-ass two things. Full-ass one thing." – Ron
[easyazon-image align="none" asin="B003L77GE2″ locale="us" height="160″ src="http://ecx.images-amazon.com/images/I/51hZaE237-L._SL160_.jpg" width="128″][easyazon-image align="none" asin="B002N5N5PM" locale="us" height="160″ src="http://ecx.images-amazon.com/images/I/516MK1KW9GL._SL160_.jpg" width="117″]
Photo Credit: NBC