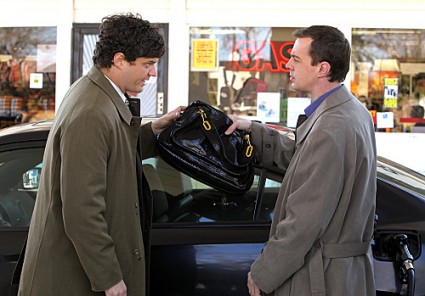 I do not support the loss of Jimmy Palmer. Please don't misunderstand me. If Palmer were to leave NCIS, I would be mighty sad. BUT, if he did leave for some terrible and unknowable reason, it wouldn't be quite as painful with NCIS Probationary Agent Ned Dorneget (Matt L. Jones) there to fill the void. I'm just saying. Palmer's great, but Dorneget may have mastered the art of being awkward around Gibbs. He was phenomenal at it. "Buick's out of the garage?" Coffee straight in the garbage? Classic.
Just as classic was the sight of McGee, acting as senior field agent on his and Dorneget's trip to pick up Ava Baransky (Katia Winter). They really did look like two kids playing dress up, but that was the least of it. The funniest part actually took place in the car on the way to retrieve Ava. McGee calling Dorneget "Probie" is a sin that calls for a cleansing only a priest could supply, but his relaying Gibbs' rules, and talking down to Dorneget about taking notes and not having a pen was McGee doing his very best Tony. Even better than the job McGee did on Tony's signature. The car ride was awesome.
I also really enjoyed the scene in autopsy between Tony, Gibbs, and Michael Reardon (Ashton Moio). First of all, tea party at Ducky's? I'm sure Ducky was pleasantly surprised at the sudden interest in tea, even though he knew it wasn't genuine. And Gibbs and Tony played that scene so well together. Tony throwing open freezers until he found Chief Petty Officer Leland Wiley (Travis Dixon), and throwing open some more until they found an empty one was great. And the bone saw? Man that scene was awesome!
Was I alone in getting flashbacks to La Grenouille in the great hunt for Agah Bayar (Tamer Hassan)? As in, haven't we seen this before? Is McGee going to suddenly start dating Bayar's aunt or grandmother? Will this be what makes him a very special agent?
Actually, it's possible that some sort of team shakeup is in the works. First there's the ever-missing Palmer; then the reappearance of Dorneget, who totally deserves a permanent spot on the team. Then there was all of Vance's cryptic comments about vacations, dying at his desk, and the next director. Is change afoot at NCIS? If so, will it be done better than the very many times it's been attempted — and failed miserably — in the past? I wonder.
Some other moments of note:
Vance telling Gibbs that when Gibbs questioned Wiley's lawyer Alan Katzenbach (Adam Kulbersh), he should bring him up to Vance's office for help squeezing the guy. Because Vance is the big guns now? That was hilarious! I can't believe Gibbs didn't break down laughing and pat Vance on the head
The entire premise that Wiley snuck the intel out on a flash drive. Most government computers, military and DoD computers in particular, have no USB drives for this very reason. So how'd he do that again? Hilarious!
I've always said, never underestimate NCIS's ability to make us laugh!
Photo Credit: CBS