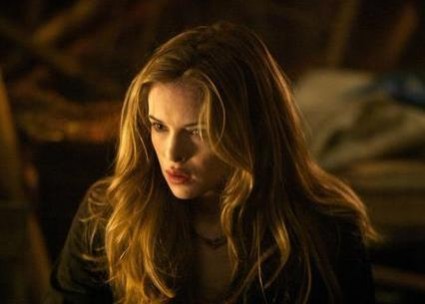 Said the dragon,
"Many knights have left their lives here, I shall soon have an end to you, too,"
and he breathed fire out of seven jaws.
Grimm couldn't possibly have matched the spiffy episode that aired last week … could it have?
Nope. It didn't even try. The only disappointment for me was the lack of ongoing mythology about Nick and his Grimm heritage which was so neatly and satisfyingly laid out last time. (However, there was that little tidbit from Monroe about a Grimm being decapitated in Antwerp, possibly by Reapers. I'm sure we'll catch a little clue about this somewhere down the line …)
Still, this wasn't any old slough of a chapter in the series.
We got a feisty, sassy performance from Danielle Panabaker (Franklin & Bash, Eli Stone) as a daughter Daemonfeuer … and a rather "hot" one by the way. Plus we were treated to an appearance by Daniel Baldwin (Cold Case, Homicide: Life On The Street) as an arson investigator. (The series would be that much better if Baldwin was a part of the cast in my humble opinion.)
In a nutshell the overall summation of the episode is this: A dragon is running rampant and Nick, as the obligatory Grimm knight, needs to take care of business. The "dignified" manner (per Ariel) in which Nick took care of Asfred, however … well, I'm a little hazy on her line of thinking. Yeah, yeah, yeah … it played right along with the fairytale legends, but what of it with regard to the story? Asfred fell prey to his "daemons" and plundered down a path of lowliness after the loss of his wife, becoming homeless and reclusive and thus losing his "dignity." I can only assume his no-longer-regal ancestry weighed on him so greatly he simply wasn't the creature he once was. Ariel — the "dutiful daughter" she claimed to be — simply assisted in his wish to regain that legacy in one final showdown.
Will we see more of her since she ended up faking her own death? It seems we may, being as she took a real shine to Nick.
Notes:
We never did get into the reason the Daemonfeuer were so interested in copper. I figure it goes back to the folklore of dragons' proclivities toward shiny things (gold, jewels, treasures) and being vary guarded and possessive of them. But then … what was the deal with all the copper tubing and more atop Ariel's house?
I have a hard time believing this was the first time Monroe had met Juliette … but yep, it was.
Speaking of Juliette, the one little flashback we got was Nick remembering what his Aunt Marie said about her possible fate if she remains with him considering the danger that surrounds the lives of the Grimm.  I just don't see that happening, though. Somehow, Juliette is going to get schooled more and more about who Nick is and she'll fall right in line. I mean, she did cold-cock Ariel pretty good in Asfred's lair, remember.
Monroe seemed a bit uncharacteristically frantic this episode, didn't he?
Quotes:
"This girl takes being wired to a whole new level." — Hank to Nick upon viewing all the intricate copper formations during their investigation of Ariel's house
"Hey … I'm just glad I can be here to, you know, help rescue the woman I've never met before … or been introduced to but, you know, hey … I don't take it personally …" — Monroe to Nick regarding Juliette
[easyazon-image align="none" asin="0345484266″ locale="us" height="160″ src="http://ecx.images-amazon.com/images/I/51in7dUIAfL._SL160_.jpg" width="107″] [easyazon-image align="none" asin="0763623296″ locale="us" height="160″ src="http://ecx.images-amazon.com/images/I/21SBR1RZK4L._SL160_.jpg" width="136″]
Photo Credit: NBC