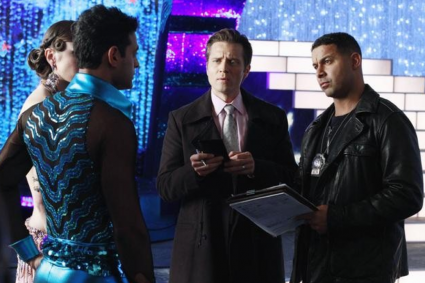 Castle is all about the pairing right? We love the dynamic of our favorite duo, the give and take, the witty banter. Except … you guys know I'm talking about Ryan and Esposito, right? If you didn't get a chance to watch the cast at Paley Fest last week, you missed a heck of a show. Every week, we can see how the cast has a wonderful dynamic on screen, but it was great to see how that chemistry is born out of their real relationships (If you missed it, keep an eye on the Paley Fest website, as Hulu will be posting the session soon).
Don't get me wrong, Castle and Beckett are pretty fricking awesome. But I talk about them all the time, right? Ryan and Espo always get the short shrift. This week's B (… C? … D?) story, with Ryan bemoaning the fact that he no longer gets flirted with was hilarious. I mean, did Ryan get flirted with before he got married? The answer is yes, but the instances of that occurring were few and far between, especially compared the "talents" of Javier Esposito. I adore the way these two guys play off each other each week. As much as I was disappointed in Esposito and Lanie's breakup, I think only one of these two guys should be in a relationship at a time; it's so much better playing off of that dynamic.
From the looks of next week's preview, I'm sure we'll get back into Castle/Beckett drama soon enough, but it is nice to talk about the secondary characters more for a change. Alexis, too, was awesome, despite the completely unbelievable storyline she's in right now. I'm sure someone will chime in that the high school daughters of famous writers who are shadowing the NYPD always get interning jobs with medical examiner's office. But why pick nits when the actress makes you believe it could be so. Molly Quinn is going to be a star in Hollywood for a very long time.
The :45 Minute Guess: More technically the :50 minute guess this week, but why split hairs. For once, I really want to believe one of the last red herring we were left with, if for no other reason than I could say, "The butler did it, with the pillow, in the bedroom." Plus, I'm bothered by the fact that Castle and Beckett theorized openly in front of him (a big pet peeve of mine this show seems to hit on at least once a week). Plus, I'm curious as to why Charles didn't mention his whole pillow theory to the police the first time around. This is one of those episodes where there are really too many people with too many motives, but I just don't like any of them more than I like the butler's.
The Answer: I hate it when the clue necessary to solve the case, like that the financial manager had dated Odette at the time, is unknown to us until after Beckett and Castle solve the case for us. I still think the butler would have made a better ending to the case. I also hate being wrong, even if I thought I was going to be wrong.
A couple of familiar faces in "A Dance with Death," though not as many as I'm used to. Brad was played by Adam Harrington, The Secret Circle's Ethan Conant. I also caught Bruce Gray as Charles; he also plays everyone's favorite would-be scientist Uncle Scott on Falling Skies.
Notes & Quotes
"Did you see that? She acted like I didn't even exist." – Ryan
"You don't; not since you put that ring on your finger. Get used to be invisible to single women." – Esposito
"I'd be off the show! I'd be Brian Dunkleman." – Brad
"Who's Brian Dunkleman?" – Beckett
"Exactly." – Brad
"Yeah, but separated-twin stories never end happily … except in the Parent Trap." – Castle
"So?" — Esposito
"So, wear the ring. I want to see if women still flirt with you and ignore me." – Ryan
"So you didn't want Castle to come because …" – Esposito
"… all the women would flirt with him." – Esposito and Ryan
"How can I tell my wife that I'm not wearing my wedding ring because I lent it to Esposito as an experiment to see if strippers would flirt with me?" – Ryan
[easyazon-image align="none" asin="B003L77FYS" locale="us" height="160″ src="http://ecx.images-amazon.com/images/I/511guIquvAL._SL160_.jpg" width="115″]  [easyazon-image align="none" asin="B0053O89KG" locale="us" height="160″ src="http://ecx.images-amazon.com/images/I/51StEaogueL._SL160_.jpg" width="117″]  [easyazon-image align="none" asin="0785153276″ locale="us" height="160″ src="http://ecx.images-amazon.com/images/I/51F14SeGryL._SL160_.jpg" width="109″]
Photo Credit: ABC/Ron Tom