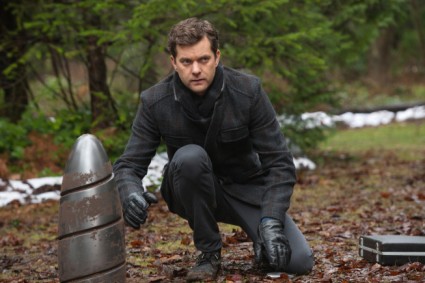 After too many weeks without Fringe, we were treated to the episode we have all been waiting for with "A Short Story About Love." Peter found his way home! He reunited with his Olivia! Everything is right in their world again … well, as right as it will ever be.
My heart broke for Olivia when Peter rejected her to continue his quest to get back to his timeline and his Olivia. I just wanted to shake him, tell him he was an idiot and yell, "She is your Olivia!" But, that of course, that doesn't work with a television show.
As much as I don't understand why Peter never considered that these were his people in his universe, just without memories of him, the end result made it all worthwhile. Both Peter and Olivia had to find their way back to each other; their love overcame nature.
While we still don't know why or how Olivia is getting her old timeline memories, her journey to accept them was difficult to watch. Before being rejected by Peter, the love she felt made her want to hold on tightly to these new memories and feelings. But, then she found out that Peter left for New York.
The heartbreak that Olivia felt was too much to bear and it only made sense for her to ask Walter to help her get rid of them. That moment between Walter and Olivia was a sign of how close they have become. It was almost as if Olivia was his daughter and he wanted to take her heartbreak away.
One of the best additions to this universe has been Lincoln. I loved Lincoln Lee on the other side, but this Lincoln has become integral to the team. But, as soon as Peter returned, he was relegated to the side. He loves Olivia and wants to support her, but she is destined for Peter. I'm not looking forward to the moment he finds out that Olivia has chosen Peter.
Olivia's decision to continue to absorb these new memories at the expense of her own memories was not an easy one for her to make, but love makes people do crazy things sometimes. She was giving up so much to keep her love for Peter, especially since he had pushed her away. Her conversation with Nina was painful.
In the other timeline, Olivia didn't have a good childhood. She didn't have a mother figure to count on. So, for her to give up Nina was huge. I hope that Nina keeps her word and works to rebuild their relationship.
As Olivia was making the decision to accept these new memories, Peter was searching for answers from the Observers to find his way home. When September said, "You have been home all along." I was so relieved. If you have been following my reviews, you know I have always thought Peter was already home.
I have grown to love this new timeline. It is peaceful, since the two universes aren't on the verge of destroying each other. The people are happier and not looking for vengence. The reintroduction of Peter into their lives has only improved their lives even more.
September ended any question about the universes and timelines when he told Peter, "And, Olivia. She is your Olivia." Peter didn't need to look any further. He was not only home, but he had found his Olivia.
The moment that we have been waiting for all season was finally upon us and it couldn't have been better with Olivia finding Peter waiting for her. The look they exchanged said it all. They were back and more in love than ever. That hug will forever be ingrained in my memory as one of the most romantic moments in television history.
Now that the main question of the season regarding the timeline has been answered, what will come next? Will Peter and Olivia's relationship be without challenges? I doubt it. Will Lincoln accept it? Or, will he act out? What about the prophesy that Olivia must die? Plus, we can't forget that David Robert Jones, evil-Nina, and the shapeshifters are still out there.
What was your favorite part of this epic Fringe episode?
Odds and Ends
You have to love Walter and his quirks. Did you notice Scooby Doo playing on the televison while he was working on the nanny cam footage of the Observers?
The song that played during the Burn Man's reflection of his love was "The Friends Of Mr. Cairo" by Jon and Vangelis.
The Fringe case wasn't much more than a search for a serial killer, but thematically it worked in well with what else was going on. The idea of love and what someone would do to get back that feeling, if only for a moment, was reflected what Olivia was going through.
The question of "being in love" versus "loving someone" will probably come up again. Does Lincoln love Olivia or really love her? That will determine how he goes about handling Peter and Olivia's new relationship
Photo Credit: FOX