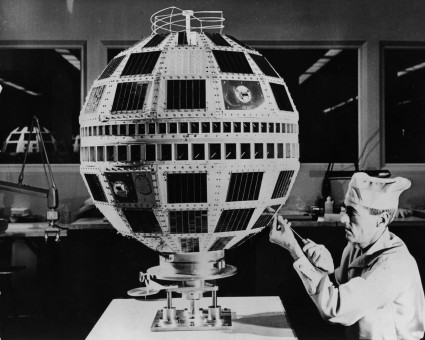 Part of my usual Sunday morning routine (besides frequently checking to see when Ivey's Quotation Marks are published) is to pay rapt attention to the interesting reports and tidbits which flash across my television screen courtesy of CBS Sunday Morning.
Coffee in hand, I gleefully watched as report after glorious report filled my mind with informative facts Sunday morning. I was one happy camper for about an hour … until Martha Teichner spouted the following while chronicling the spirit of invention at Bell Laboratories:
"And don't forget Telstar the first satellite to transmit television pictures.
It looked like a disco ball and inspired bad music."
My jaw dropped. I almost spilled my coffee in my lap. I could feel myself beginning to fume. "Did I just hear what I thought I heard?" I asked myself. "Did she really just say that?!?"
I consider myself an amateur musicologist. I know too much about music, yet not enough to satisfy my voracious appetite about it. Because when it comes to music, there is always something to learn. It just so happens I know a lot about not only Telstar the satellite, but "Telstar" the instrumental recording, too. And what Ms. Teichner spewed above was dead wrong. (Though she was dead on about the satellite looking like a disco ball. I'll give her that much.)
I'd heard The Tornado's "Telstar" on and off since I was a kid. It was popular back in the day. It just so happens I know it's the only instrumental single to boast a #1 status on both the US and UK singles charts, a record it garnered in 1962, the year of its release … and which still holds true to this very day.
How do I know this?
In 1995, I happened upon information Rhino Records was releasing a compilation of rock instrumentals from the 50's, 60's and 70's, a lot of which I grew up with. Thrilled to discover a bevy of my favorites were on the set, I had to have it. I snapped it up mere days after its release. I devoured not only the music on the 5 CDs but voraciously read the liner notes that came with the set, some of which detailed the history of "Telstar."
So when Ms. Teichner blurted the quote above, I about choked.
Let's forget about the fact the packaging claimed (by association) "Telstar" was a "rock instrumental classic" for a moment. The fact of the matter is the tune was a #1 hit not only on the UK charts for 5 consecutive weeks, but a #1 hit on the American charts as well, staying on that list for 16 weeks.
Yet, per Teichner, it's regarded as "bad music." Hogwash.
Not only did it top other international charts (including those of the Belgian, Dutch, Irish and South African singles charts), but the tune has been covered by 45+ different artists, has sold 5+ million copies world-wide and has won a prestigious Ivor Novello Award for songwriting and composing.
Am I making a mountain out of a molehill? Hell no.
Look … I know as well as anyone music is a subjective art form. But when you have those kinds of accolades to back you up, all I have to say is that Martha Teichner can blow it out her ear.
[easyazon-image align="none" asin="B0000033KX" locale="us" height="135″ src="http://ecx.images-amazon.com/images/I/41GRF3QD0SL._SL160_.jpg" width="160″] [easyazon-image align="none" asin="B00000K1JM" locale="us" height="160″ src="http://ecx.images-amazon.com/images/I/51iK%2BnqFDKL._SL160_.jpg" width="160″]
Photo Credit: Fox Photos/Getty Images