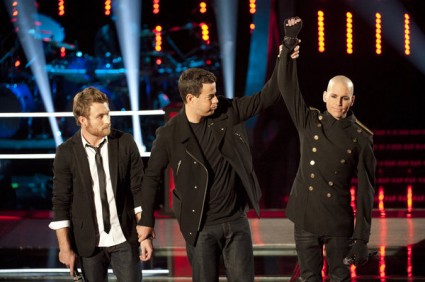 It feels like we sped through the battle rounds on The Voice (or maybe that's because the blind auditions were just so damn long). Now the teams have been cut in half, and now it's all about America's vote. But these last couple of battles weren't without their talking points.
I don't share the pervasive dislike of this season that my colleague Michael has. Not by a long shot. But as with last season, there have been some amazing highs and some less-than-amazing lows. We have the added factor this season of people bringing entirely different genres to the show. So it's been an interesting experience, particularly last night.
We were treated to Moses Stone vs. The LiNE on a Rolling Stones song. Yep, a hip-hop artist against a country duo with a rock tune. On paper, this sounded like Christina might've been drunk when she envisioned it. But you know what? It was actually pretty good. It took both sides a little while to settle on the stage, but Moses can legitimately sing, and it was fun to watch him and The LiNE play back and forth with each other. I enjoyed it.
But the results were a matter of debate, at least between the coaches. Those of you that read my columns regularly know that I don't usually agree with Christina Aguilera (and by extension, disagree with my coach Adam Levine), but Christina got it right. There's nothing in the rules that says 'The Voice' has to be a traditional vocalist. What Moses performs shouldn't matter; it's the standard to which he performs. Frankly, just to screw with people, I'd love to see him rap through the whole live shows. And Chris Mann can sing in foreign languages. And I'd watch people's heads explode and just laugh.
Then there was after the battle. It sure looked like Hailey Steele of The LiNE was a sore loser, with her pouty expression and unwillingness to talk to the cameras. Sure, I understand that it's never fun when you lose. We're not asking you to throw a parade for your opponent. But how about at least putting on a fake smile long enough to at least thank your coach for giving you the opportunity to compete in the first place? It was a display of bad attitude that I'm not used to seeing on The Voice, and I hope for her sake that Hailey came to her senses later on.
(ETA: I've seen several of Hailey's post-show tweets, and they're much more positive and appreciative of her time on the show. It's up to you how much stock you want to put in Twitter as a source, but I'm inclined to give her the benefit of the doubt and say she just had a moody moment…that had the horrific timing of being caught on national TV.)
Some of the battles didn't impress the coaches (Mathai and Nicolle Galyon, or Naia Kete and Jordan Rager). I felt a little sad when Orlando Napier lost to Karla Davis, being that he sings a genre I absolutely love, but as Adam said, she has more potential going forward. Being the best artist isn't just about doing one thing well; to have staying power, you have to be versatile, and Karla was moreso.
Then we get to the end and the best battle of the season … if you can call it that, because it was really the most awesome duet ever. It was Team Cee Lo's Justin Hopkins and Tony Vincent wringing every last ounce of emotion out of Journey's "Faithfully." That's a sad song to begin with, but these guys very clearly connected with the material, being family men themselves, and that came across like a big gut-punch to the audience. They sounded great but more importantly, they brought us into the moment and the emotion with them. Wow. I'd buy tickets to that show right now.
What's more, Justin and Tony were the exact opposite of Hailey's reaction from earlier. In the moments where they weren't singing, you could see the obvious respect they had for one another. It was clear that they were considerate of each other, even though it was a competition. And they could not have been more classy toward each other after it was over. These two left their hearts out on that stage and we couldn't have asked them for anything more.
But I can and will ask NBC for more: why, in the name of everything, can we not download that complete duet?! As I've said before, it baffles me that they are only releasing solo versions of the battle round duets. In this case, it seems a particular crime. Tony sounds great, but Tony and Justin were freaking fantastic.
And now, it's time for the live shows. My bags are packed for the red carpet. I have my favorites: Tony, Chris Mann, Katrina Parker. I'm rooting for Moses to confuse a few more people on principle. What about you? Who do you think you'll be voting for next week?
Photo Credit: NBC