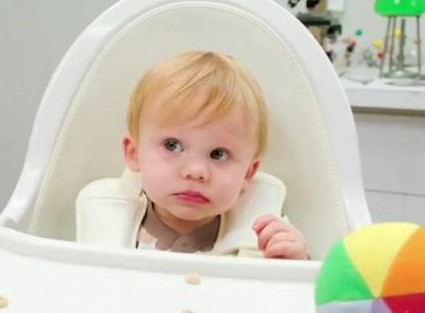 Tara: Don't get me wrong. I like Jimmy Fallon. His special appearances when Justin Timberlake hosts SNL to do The Barry Gibb Talk Shows are simply some of the funniest skits ever.
Having put that out there? I gotta say that I'm on overkill with this latest venture of his for Capital One bank. I'll give you a chuckle the first time I saw it. But that's that.
Michael: First off, I've never been a fan of Jimmy Fallon. Sure he's amusing here and there, but I've never been on board with him. When his talk show launched, I didn't give it very long when it premiered in March 2009, but here we are 3 years later and he's still going strong. I've caught an episode or three, that's about it.
Regarding the commercial, I happen to enjoy it immensely. I can't tell you exactly why, but I simply don't tire of it. Lots going on in the piece. Thoughts run 'round my mind each time I see it. For example: How in the world did those couple Cheerios land so strategically in his mouth? How many takes did the director employ in order to get that shot?
Tara: Maybe it's a guy thing. Guys like it when people get things chucked at them. And my personal opinion is the Cheerios stuck to his lips so well because of all the gloss/stick he's wearing. You can see all that, right?
Michael: Yes … it's a guy thing. Guys like dodging stuff, especially unexpected stuff that comes out of left field. Or from babies. We're wired that way.
Plus! I love the tinkly background music when the tyke appears.
Tara: The music is dopey. Which fits. My problem is I'm just overtired with the constant showing of this thing. After awhile? I just think the baby is obnoxious and mean.
Michael: The kid's not obnoxious and mean. It's just a kid being a kid. I just think the commercial has worn out its welcome with you.
And! The mystery for me continues to be how that kid got hold of the fire extinguisher behind him, let alone lobbing it at Fallon. Love it.
Tara: This may answer some questions concerning how many takes were involved. And exactly "who" did the lobbing. (Sorry to burst your bubble.)  I think I hear him say "one take" right at the end. It does look like it was a fun shoot to be on.
Michael: It's not like I thought the tyke was a miniature Incredible Hulk. It just amused me. And I'm glad you included that outtake piece. I've never seen it before! Fun stuff!
Look: I know this spot may not have been your cup of tea … but who says CommercialClack has to be just about commercials? I mean … how 'bout the last piece I threw in below? There isn't anything more commercial than Rebecca Black's "Friday" as realized by Fallon, Steven Colbert and Taylor Hicks of American Idol fame, is there? And especially being today is Friday! Woot … !!!
[easyazon-image align="none" asin="B001HZWWQW" locale="us" height="160″ src="http://ecx.images-amazon.com/images/I/41Ga9CVM9-L._SL160_.jpg" width="108″] [easyazon-image align="none" asin="B000FACBFC" locale="us" height="160″ src="http://ecx.images-amazon.com/images/I/51n5rUiKRyL._SL160_.jpg" width="104″] [easyazon-image align="none" asin="B000EUJO44″ locale="us" height="160″ src="http://ecx.images-amazon.com/images/I/51aBHbsvpCL._SL160_.jpg" width="109″] [easyazon-image align="none" asin="B000FAEUI8″ locale="us" height="160″ src="http://ecx.images-amazon.com/images/I/51N12atUjqL._SL160_.jpg" width="105″]
Photo Credit: Capital One