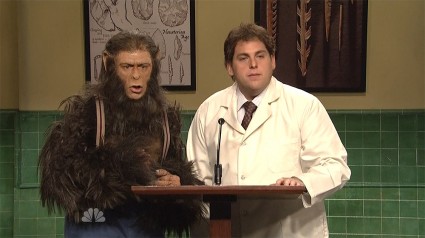 Oscar nominee Jonah Hill hosted Saturday Night Live this week with musical guest The Shins, and the show had a lot of highs and not too many lows, but it did take some bizarre turns along the way to the finale. Seems like everyone had a case of the giggles this week, apparently causing the show to run long and losing a sketch between commercial breaks. Perhaps we'll find some video of the taped dress rehearsal to include as a bonus. And last week, Lindsay Lohan got a lot of crap for reading the cue cards, but I think Jonah has her beat. Have a look at the clips below (check back Sunday) to see how many times you can spot him obviously reading just off camera. Did you have a favorite sketch or two this week? Take the poll below and feel free to elaborate in the comments section.
Cold Open: The Rush Limbaugh Show – They didn't hit it out of the park with this one — it's hard to make fun of someone who's already a caricature — but the new sponsor names (Syrian Tourism Board!) were amusing. At least it wasn't another Romney sketch.
Monologue: Jonah Hill — Nice departure from the standard monologue with a filmed look at how the Oscar nomination has affected Jonah. Loved the banter between Jonah and Kristin as he became perturbed that she is also a nominee. Then Tom Hanks showed up and cracked Jonah up.
Benihana — Jonah as a very grown up six year old Shecky Green-style comedian having dinner with his dad was pretty damned funny. He had some great one-liners but he looked at the cue card as much as Lindsay Lohan did in the Scared Straight sketch.
SNL Digital Short: Science Finders — Another funny bit that went from a botched science show to a ghost hunting was built on a solid premise — hitting a guy in the nuts with a tennis ball, over and over again, is hilarious!
J Pop America Funtime Now — Even though this sketch hits the same notes every time, it's still funny, especially when Jonah got an attack of the giggles before his Samurai dance. Jason Sudeikis manages to find some new humor in his teacher character, and all Fred Armisen has to do to get a laugh is stand there in a wig and glasses.
Musical Guest: The Shins — Another band I don't know. One of my friends from way back in elementary school was excited they were on, but not my cup of tea.
Weekend Update — Paula Deen shows up to refute the recent allegations against her, and Kristin Wiig was hilarious. Andy Samberg fills in as Sarah Palin for a "sick Tina Fey," and gets it all hilariously wrong. And Stefon returns with tourist tips, and loses it while describing a Hoomba.
Brutus — This was pretty bizarre and uncomfortably funny with some pretty awesome ape makeup on … Fred Armisen? This will teach science to mess with nature … and vice versa.
Liza Minnelli Tries to Turn Off a Lamp — Kristin Wiig going through Liza's repertoire of movement is pretty funny … even Kristin thinks so, mainly because the band and sound effects people are never in sync with her. And keep an eye out for the mysterious hand with the light's electric cord. Jonah didn't do much but read cue cards.
Sports Center — Okay, maybe not. They were getting ready for this between commercial breaks and suddenly The Shins are back instead.
Happy Anniversary — Okay, it's the final sketch of the Jonah and Kristin Show. Not much point to this, but it did give the entire cast a moment together on stage and ended as they broke the fourth wall and went out into the audience. 

Loading ...
Photo Credit: NBC