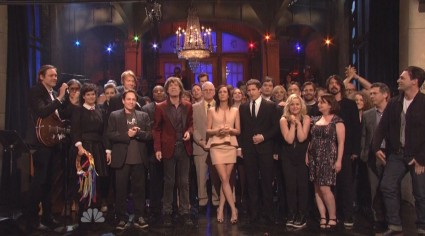 The 37th season of Saturday Night Live has come to an end with one of it's best shows ever! I wasn't sure how Mick Jagger was going to do as the host, but he's this year's Betty White! He hit it out of the park every time, he tore up the stage during his musical numbers, and he got to lead the cast (and a few surprise guests) in a rousing, touching "Ruby Tuesday" as we all bid farewell to a favorite cast member. It was a bittersweet moment to cap off a great show and a great end to the season. We'll have the clips up when we get them, and we have most of the "Lazy Sunday 2″ lyrics for your enjoyment (thanks, Keith, for transcribing the first half).
Cold Open: The Lawrence Welk Show — Jon Hamm makes a surprise visit. This bit never fails to make me laugh, and Kristin at the fountain was too much! But does she finally find true love by the end? And does this signal the end for Kristin Wiig?
Monologue: Mick Jagger — A pretty funny monologue with Mick answering some Mick Jagger FAQs, like "Have you gotten satisfaction?" Great answer. And he looks pretty good for 102. (I kid!)
Secret Word — Oh no, another one of Kristin's greatest hits. Mick was hilarious as a surprisingly fey "man's man" movie star who was more like Charles Nelson Reilly. One of the best editions of this sketch.
Karaoke Night — Song choices are, obviously, Rolling Stones songs with Mick playing a nerd criticizing the bad Jagger performances. Another very funny turn by Jagger with a bit of a poignant ending.
SNL Digital Short: Lazy Sunday 2 — Yes, the 101st Digital Short was a sequel to the one that really put the Digital Shorts on the map. This one was about going to see the Broadway musical, Sister Act! Here are the lyrics (at least what I could understand of them in the second half of the song … and the closed captioning was little help):
Lazy Sunday
Slept right through my alarm
Activate Siri and say
"Call Parn"
Who dis?
It's me, man
Yo Samberg, kick facts
Tonight is the night
Broadway
Sister Act
The show's not 'til later
Let's merc some brunch
I know a cute French place
Meet me outside Crunch
My core is ripped
That workout was trill
Man I can almost taste
those mimosas for real
They're makin' changes at three
We'd better start jammin'
I love that brunch
more than McAdams loves Channing
Dub step
Two fifty-nine
Made it on a technicality
Eggs benedict
No yolk
Less calories
The plating is cray
I detect sage butter
How you wanna pay Chris?
Go Dutch, motherfucker
Go to Sister Act
Like a pistol whack
Buck wild in the streets
Off a sixer pack
We go to Sister Act
Like we got racks on racks
'Cause once you buy 'em
You can't give your tickets back
Yo, hold up, hold up
Hey, yo, Chris, we're gonna have to hit 'em with some new mish for 2012, my dude
So why don't you drop it on 'em like right now?
Allow me to reintroduce myself
My name is Parns
P to A-arns
Stupid bargains
up at all the Pottery Barns
Young Sandwich and I came to catch reck
Still waitin' on a fucking YouTube check
Don't mess with Magnolia 'cause the line's too long
Plus it bumps with my clip
Now back to the song
Yo, peep the marquee
They some funny ass nuns
We got ninety-nine problems
But this sitch ain't one
Sneak in the flask
Filled with sweet Vermouth
We take more shots in the theater
Than John Wilkes Booth
Flip up binocs
'Cause we're cultural mavens
Like dem and we scream out
That's so Raven
Go to Sister Act
Like a pistol whack
All up in the theater
Like aristocrats
We gonna Sister Act
Like we got racks on racks
'Cause once you buy 'em
You can't give your tickets back
On these New York streets
I honed my fake rap penmanship
That's how it began
And that's how I'm a finish it
Politics Nation — I love Keenan's spoof of Al Sharpton. You have to know Sharpton's show to know how close the parody is to reality. And confusing the word "cannery" with "canary" was hilarious. And Jagger, again, was funny as the rep from JP Morgan trying not to be flustered by Sharpton.
Musical Guests: Mick Jagger with Arcade Fire — I liked the whole gospel/retro feel to this song, and Jagger still has the moves.
Weekend Update — The week's top stories and only one special guest: Stefon has summer tips for families in NYC. Oh, the writers had fun with this one.
So You Think You Can Dance at an Outdoor Music Festival — Mick Jagger as Steven Tyler! Hader as Dave Matthews, Abby Elliot as Jewel, and Fred Amisen as Santana were all terrific, but Jagger stole this sketch. And the concept of spaced out drunks entering a dance contest was pretty awesome.
Musical Guests: Mick Jagger and Foo Fighters — Mick rocks it out with the guys, but the first song was more to my liking. I did still like the retro flavor.
The Californians — The accents and highway directions are so funny, and Jagger doing his best SoCal accent was priceless. And on top of it all, a surprise cameo!
Musical Guests: Mick Jagger and Jeff Beck — Mick does a bluesy song about the presidential election. An interesting topic for a song. Don't let Mitt Romney cut your hair?
Graduation — It's official. We say a fond farewell to Kristin Wiig. A lovely send-off to "Ruby Tuesday" with Amy Poehler, Rachel Dratch, Chris Parnell, Will Forte, Lorne Michaels and … Chris Kattan?!? Jason Sudeikis was visibly upset, and I got a bit misty-eyed myself. I envy the people who got to be in the audience for this finale.
And here are a couple of web-only bonus videos:
Have a great summer everyone!
Photo Credit: NBC