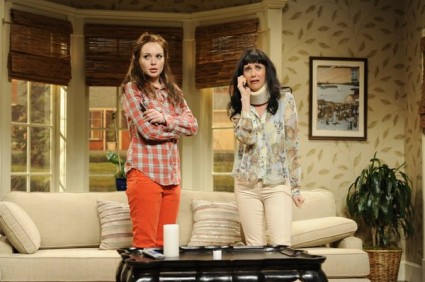 This week on the season finale of Saturday Night Live, Kristen Wiig said farewell to the show (in impressive fashion, at that. Next time I leave a job, I'd also like to be backed by Mick Jagger and Arcade Fire.). SNL will no doubt march on, as it has for the close to forty years now, with cast members coming and going. I can't help thinking, though, that with Wiig's exit, an era is coming to an end.
For years now there has been an extremely strong female voice on Saturday Night Live. Tina Fey was the show's first female head writer, and the show spit out successful female actors in the likes of Wiig, Amy Poehler, Maya Rudolph, and Fey herself. Before that, you had the likes of Molly Shannon, Ana Gasteyer, and Cheri Oteri. It was a bit of an unprecedented run for women on the show. I suppose the difference that I see right now is that there is no heir apparent to take over Wiig's prominent role on the show. When Fey left, it was obvious that Poehler would step up, and when Poehler left, Wiig was still there. Looking at the current cast, there doesn't appear to be, from my viewpoint, a breakout female star.
Don't get me wrong, there are a lot of talented and funny women still in the cast. Nasim Pedrad has a few regular characters, though I don't think any of them have the popularity of Wiig's. Abby Elliot is always solid, but never seems to stand out, and Vanessa Bayer (love her Miley Cyrus!) and Kate McKinnon seem to have a lot of potential. What I find interesting is that some of my favorite female cast members in the very recent past have been unceremoniously dumped. Specifically, I'm thinking about Jenny Slate, Michaela Watkins, and Casey Wilson (who has been starring on Happy Endings).
It seems like the real talent on the show lies with the men. Fred Armisen is almost always funny (though with the success of Portlandia, I'm wondering if he's only sticking around to play Obama during the election year), Bill Hader is great, and Kenan Thompson has my favorite recurring sketches (I'm a sucker for What Up With That?, Scared Straight, and Grady Wilson's Put The Fire Back). There were rumors that Jason Sudeikis and Andy Samberg were going to be leaving the show too, but it appears as if they are staying (or leaving with much less fanfare than Wiig). Samberg seems to be very popular, though I think I am a little old for his odd brand of humor (my generation had Adam Sandler to fill that role back in the day).
I am very curious to see how the show will respond. It is my hope that some of the female cast members step up to fill in the void. Will they be able to, or will Lorne Michaels need to go out and find some fresh young talent? If I were Michaels, I think I might go out and seek a veteran female for the cast. Why not have Armisen bring his Portalandia partner, Carrie Brownstein, to New York? How about the always funny and seemingly ubiquitous Andrea Savage? Just a thought.
Any funny females you would like to see on SNL next season?
Photo Credit: NBC