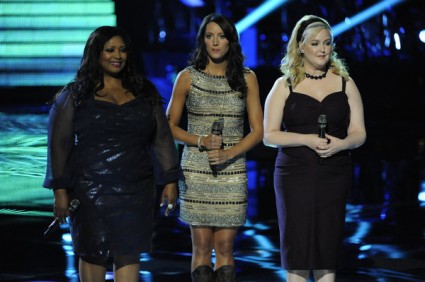 Ladies and gentlemen, I have never hid my colors when it comes to writing about The Voice. Yes, I had more fun this week because my team (Team Adam) was featured. And because they're my team and I get to interact with them more, I managed to experience both the ultimate high and a pretty crushing low in the same evening. But we'll get to that in a bit.
This week's live shows went a little sideways, at least when it came to things off-camera. I couldn't help but cringe at some of Christina Aguilera's behavior this week. Her comments to Tony Lucca did surprise me with their bluntness, but I felt equally bad for Tony Vincent, whose name she blanked on at the end of the results show. I understood the gist of what Christina was trying to say to Tony Lucca, even if I didn't like how she said it. But for her not to remember Tony Vincent's name when she only had three singers up there to identify? That felt just as off-putting to me. I'm going to give Christina the benefit of the doubt and say perhaps this just wasn't her week.
I'm also sure that Erin Martin may catch some (more) heat for her exit comments, in which she's said that she felt Cee Lo pulled her out of her comfort zone with his song choices. Unlike Hailey Steele's departure, I understood this one a bit more, because it wasn't about winning or losing, but about standing up for herself. Adapting to a cover song or trying something new is one thing, but it sounds like Erin got lost in the process. And on top of that, she was received so harshly by critics and fans alike at the same time. For my part, I feel badly that I judged her on performances that were not truly her, and I'm looking forward to hearing her as she wants to be heard.
There might have been some rough moments, but there were a lot of things I enjoyed about this week as well. Here are my thoughts and observations, again in no real order:
I got my first look at the redesigned Voice live show set this week. It's bigger, brighter and the band seems to be practically hiding in the back. But hey, we need that extra room when we're bringing clowns, dancers, giant props and stilt-walkers to the party.
The departure that crushed me this week was Tony Vincent's. His version of "Everybody Wants To Rule The World" was amazing, even if you want to call it socialist or militant or what have you. I could see that this was a great singer who had a tune he was truly passionate about, and it had me wanting to get up and belt it along with him. (Although I'll admit that I saw the drones and thought it was "Mr. Roboto" at first. I bet he'd sing the heck out of that, too.)
And I will truly miss Tony the individual. He was someone whose sound I responded to as a fan and whose artistic message I honestly connected with as a singer. He inspired me each time we got a chance to talk. And I'll always appreciate that he made me feel as if my childhood dream to perform the duet from Starlight Express was a legitimate aspiration after all.
Something I didn't enjoy as much: these guest performances that fill the results shows, because they turn the Voice artists into underused background vocalists that are difficult to hear over the band anyway. Though I like her song "Domino," I didn't think Jessie J sounded her best Tuesday night. That said, I wonder what kind of coach she'll make on The Voice UK.
I had the pleasure of sitting in a great seat this week: between the VIP seats allotted to Teams Blake and Christina, and the tunnel through which the artists make their entrances and exits. This led to me being recognized, waved at, high-fived, and hugged quite a bit. Those little moments made me feel a lot better, as I'll admit to stressing over the potential eliminations.
On that note, this meant that I was exiting the stage down the same ramp that Tony, Erin and Cheesa were waiting to come back up via to hear their final fates. It was a little surreal to be able to tell them one last "good luck" just moments before things changed for them.
Slips and falls, part one: my good friend Katrina Parker stumbled getting up on stage at the end of the performance show. Thankfully, she made a quick recovery!
Slips and falls, part two: I nearly went down on the studio floor myself. Getting up to high-five Team Christina's Chris Mann, I realized too late what I was leaning on to support myself wasn't stable. I saved myself, but I did appreciate him saying he'd have caught me if I went down.
Sightings, part one: Team Cee Lo's Justin Hopkins and Team Adam's Nathan Parrett joined us in-studio Monday night to support their teammates. I said hello to Justin as he was leaving the stage – after jumping on Tony. Justin and Nathan might not be with us anymore, but they're so not forgotten.
Sightings, part two: season one finalist Vicci Martinez walked into me backstage, and she looked fabulous.
Sightings, part three: current Celebrity Apprentice participant Arsenio Hall passed me on Tuesday night.
While I love all my Voice artists, there were two people who really brightened my week. Team Cee Lo's Jamar Rogers is one heck of a rocker, but off-stage he's a huge teddy bear who gives a great hug. And then there's Team Adam's Karla Davis, who rendered me speechless when she told me that I'm talked about and "well-liked" backstage. It was my Sally Field moment for sure.
And a quick shoutout to the folks at 1iota, who are always such a pleasure for me to work with in-studio. They really go out of their way to take care of me, and I appreciate every one of them.
Now, moving on we'll venture into familiar territory for my regular readers, and that's me talking about my coach, Mr. Adam Levine. He did something that really impressed me this week…and then, because he is Adam Levine, he decided to come and rock my world while he was at it. Read on.
Photo Credit: NBC
This Post Contains Multiple Pages: 1
2