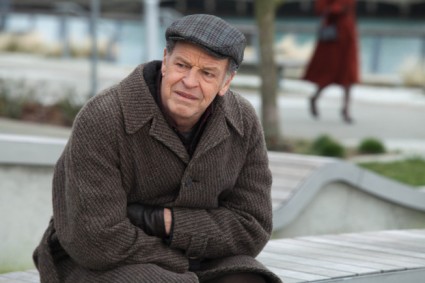 Opening Sequence: community, joy, individuality, education, imagination,
private thought, due process, ownership, free will, freedom
 It's the 19th episode of the Fringe season, which means an hour of odd awesomeness! Remember last season's cartoon episode, "Lysergic Acid Diethylamide"
"Letters of Transit" took us to the future. The year is 2036 and the Observers have taken over the world. Unfortunately, Walter and his team were put in amber when they got close to building a device to rid the world of the Observers.
Fringe agents, Etta (Georgina Haig) and Simon (Henry Ian Cusick), were on the case. As soon as, I saw Etta, she had to be Olivia and Peter's daughter. She looked just like Olivia, plus she had a special ability. Then, there was her obsession with finding the rest of Walter's team. She had to be looking for her parents, right?
Even with the clues, the final review that Peter was saved from the amber and that she was his daughter, Henrietta, was highly emotional. And, what was the significance of the bullet around her neck? It was last season's 19th episode that ended with Olivia saying, "I haven't seen him before, but I think he's the man whose gonna kill me." And, this season, we find out that she died. Is her future something that can be altered?  Or, was September correct in predicting Olivia's death?
While this episode took place in the future, it isn't clear that this occurred during the current timeline. The opening sequence was in blue, not in amber. Is this just one of many possible futures that the Observers have seen? But, assuming this was the future of the new timeline, then we were provided some insight into what happened.
In the new timeline, William Bell did remove part of Walter's brain. But, unlike the previous timeline, Bell did not die. He was still alive when the Observers took over. At some point, Bell was also responsible for what happened to Olivia. Her death? Is that why Walter had no regard for him?
It was a pleasant surprise to see Nina still around and helping Etta. She looked good for her age, especially loved the hair. At least, Etta had some family still around in the future, even if not by blood.
Now Walter, Peter, Astrid and Etta will have to build the device to bring down the Observers in 2036. Is that what a potential fifth season would be about? Or, can they change the past and stop the Observers before their 2015 takeover; similar to how Walter sent the machine back in time for Peter to save the universes?
"Letters of Transit" brought more questions than answers, but was a fun departure for an episode. The problem I have with jumping to the future is that we know there is nothing good ahead for our the Fringe team. The only hope is that they can find out about this and change it.
Odds and Ends
The guy who found Walter said there were two more — a man and a woman, who were younger. But, there really were three, right? Astrid, William Bell and Peter.
Did the Observers take over the other side too? Does it even still exist?
Observers get drunk from water. Cheap way to fill their flasks … intriguing.
Loved the classic Walterisms — licorice, LSD, Star Wars droid reference, monkey feces, and just Walter being Walter.
Henry Ian Cusik was a nice addition as Simon. Is there a way they can bring him back? Maybe play his father, who was part of the resistance?
"Henrietta?" — Peter
"Hi, Dad." — Etta
The glyphs spelled out: QUAKE
No word yet on whether the show will be picked up for season five or not. Fingers crossed the Fringe isn't cancelled! This show is too good to go out now.
[easyazon-image align="none" asin="B003L77G2Y" locale="us" height="160″ src="http://ecx.images-amazon.com/images/I/51w7OtuT2tL._SL160_.jpg" width="139″]
Photo Credit: FOX