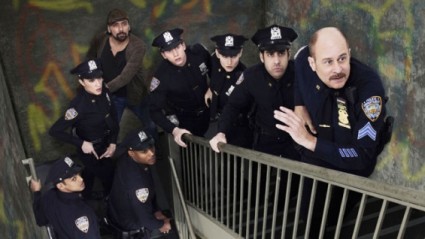 "From Robert De Niro" was about the only thing the new CBS cop procedural, NYC 22, had to put out there to get me to tune in. Unfortunately I missed the pilot — can you believe that it's not On Demand? — but I figure there's only so much I could have missed that couldn't be picked up by tuning in for week two.
First an observation: Adam Goldberg (here as Ray Harper) as a rookie cop? Not only has Goldberg been in Hollywood for twenty years, with his memorable turn as Chandler's new roommate Eddie Menuek back in '96, but as Detective Eric Delahoy on The Unusuals he already served under a Terry Kinney (here as Daniel Dean) character. That's just weird.
Okay, so rookie cops. Not exactly a novel concept, considering the fact that Rookie Blue already crashed and burned this decade. And of course the cop procedural has been done, to different levels of success. What separates NYC 22? Or rather, what has to separate NYC 22 in order for the show to survive? Characters. Let's see who we've got.
On The Unusuals Goldberg was deliciously crazy. As Ray Harper, however, he's kind of bland. Despite what I said above, he actually nails a rookie cop — young, naive, and unformed. How that works for a television character, though? I'm not sure it's what you want. I enjoyed watching him and his partner try to stem the tide of a drug war on a single city street in a single night, but unless that's their permanent assignment — The Wire! — that story was a one-show pony.
Kenny McLaren (Stark Sands) was also blah … that despite his attempts to woo Michelle Terry (Sonequa Martin-Green) by saving her banger brother T-Rex (Odiseas Georgiadis). His partner Jennifer Perry (Leelee Sobieski), on the other hand, was most definitely not. She didn't do very much save for making light of Kenny's love story, but I got a strong current of funny from her. With so many characters on one show it's never easy to stand out, but if she gets the chance, Leelee Sobieski could make a splash on the show.
Jayson "Jackpot" Toney (Harold House Moore) is a character to watch as well. The presence of his old friend Monsta White (Sticky Fingaz) certainly helped Jackpot stand out during episode two, but it's clear that his is an outsized personality regardless. I'm not sure how much of the life he described living before joining the force he actually could have accomplished as a teenager, but the series will help prove that out if given the opportunity. Ahmad Khan (Tom Reed), meanwhile, is a bit of a mouse, but those guys can surprise. Or not.
Then there's Daniel Dean (Kinney). Commercials make Dean look like a tired shepherd herding an unruly flock; the series itself doesn't do much different. Is it a bad sign when the "godfather" of the cast seems put upon to be there? There's comedy in that, but therein also runs the risk that viewers will pick up on that sentiment and run with it … away from the show.
Overall? NYC 22 is a run-of-the-mill series. Neither outstanding nor cancellation worthy, at least not yet. Should fans of the awesome The Unusuals rejoice that our show is back? Nope. NYC 22 doesn't have a cast of quirky characters … but they might grow on you. At the very least Mr. De Niro makes it worth a second look.
Photo Credit: CBS