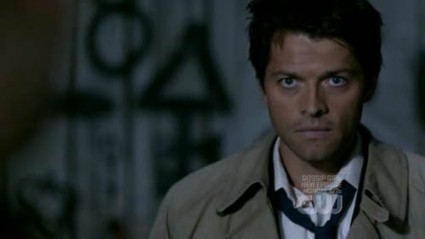 Dear Supernatural Writers,
Let me begin this letter with a huge "thank you" for bringing back Castiel. Misha Collins has brought to life with perfection the unique and entertaining character you created. Now let me say, that although I'm glad he's back, there is almost nothing good about what you've done with the character since then.
Thankfully, the amnesia didn't last long, but as soon as Castiel gets his memory back, he's stuck sitting in a psych ward for episodes, while the boys fight the good fight without him. I get that he sacrificed for Sam, but Castiel fans did not want him to come back just to not really be back. Why would you underuse the fact that you've got Misha Collins back where the fans want him?
I also get that this was "retro" season and that Castiel and all of his supernaturalness was interfering with two humans fighting demons everywhere, and winning. But you could still go retro with a sidekick. It's not like it's unprecedented for Sam and Dean to have help — their dad, Jo, Ellen, Ash, Bobby, Bela — they've even had supernatural help before — surely you remember Ruby? You could even make an argument for Chuck/God.
Let's say that you were still hell-bent on the boys not having supernatural help this season (or that you were planning all along for it to be Bobby's ghost). The beauty of Castiel is not his supernatural powers, but his chemistry with the boys. You didn't need to give him his powers back. He could still be a sidekick, bantering with the boys, doing what we all love so much about him. We don't need his magic for Castiel to be magic.
I know he's likely to play a larger role in the final two episodes, and the inevitable takedown of the Leviathans, but Castiel's presence could have been mined for so much more greatness than sitting in a psych ward. I'm mourning the loss of Castiel's character all the more because his return was so misused. So please, make up for it in the final two episodes of season seven.
Which leads me to the fact that nearly every sidekick of Sam's and Dean's is … dead. Will Castiel live to see the finale, or will he be a casualty of the Leviathans? That would be a travesty, because Misha Collins' return has been underused in every way and you could totally make up for it in season eight. Just sayin'.
Sincerely,
Debbie, a loyal fan of Supernatural, seasons 1-6 (season 7 pending)
Photo Credit: The CW