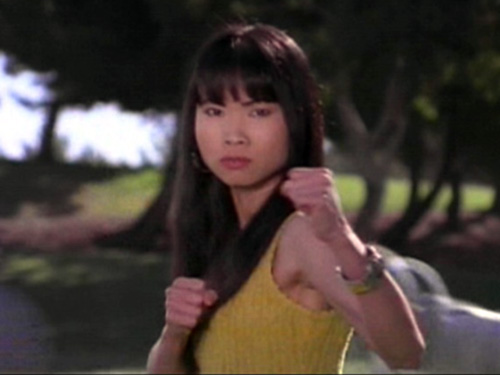 Okay, so anyone who is anyone should know who the Power Rangers are. It's hard to believe that those rainbow colored, spandex wearing crime-fighters have been around for nearly two decades, but they have. While a pristine generation of youngsters is meeting a new set of Rangers on Nickelodeon, I was around when they made their very first appearance on Fox Kids in Mighty Morphin Power Rangers in 1993. Most nerds and television aficionados can recall this series.
Out of the six rangers, the black and yellow ones were my favorite. To that end, let's focus on one of those two — I pick Trini Kwan, the butt-kicking Yellow Ranger! Played to perfection by the late Thuy Trang, Trini was, in a word, awesome, and while some fans are always quick to overlook her contributions to the series, instead focusing on that other Ranger — cough, Tommy, cough — I've always seen her as a positive staple in Power Rangers lore. With that being said, here are the top five reasons why Trini is cool.
Trini was unafraid! It has to be hard fighting monsters that can grow to incredible sizes in order to annihilate a city, but as the Yellow Ranger, Trini was the epitome of the word brave. The Power Rangers were only supposed to morph when a situation was too much to handle. While Kimberly and Billy would morph mere seconds after Rita's monsters appeared, Trini would actually go hand-to-hand with Rita's frightening minions before using the awesome powers that Zordon bestowed upon her. Couldn't have been me. I would have been out there fighting with a frying pan. However, Trini was confident in her skills to subdue monsters on her own.
Trini knew kung-fu! While martial arts was one of the ingredients of the series, Trini was the only one that knew this particular form of fighting … which she often employed. In fact, the weapons that the Yellow Ranger was given were twin daggers — for close contact. The Pink Ranger was given a damn bow and arrow and the Black Ranger was equipped with a bazooka — weapons that they could use from a distance. Daggers meant that Trini had to fight up close and personal, but with her kung fu skills, that wasn't a problem. The girl had spunk. If it were me, I'd probably have been given chemical mace.
Trini had a cool head! It was very rare that we would see Trini panic. In fact, I don't really think she knew the definition of the word. Perchance it was her upbringing. Trini often kept relatively calm in situations regarding Rita, and also in everyday life. I don't ever recall seeing her stress about a test or a school project. Maybe that's because she was exceptionally organized. In fact, maybe Trini was one of the first examples I was shown in regards to being so organized. Oh, crap! I'm having a moment. Is she what started me on my path to developing a slight case of anal retentiveness?
Trini was a good friend! Loyalty is what counts in my book, and Trini was just that. She often acted as the voice of reason with the others. Furthermore, she was the only one that could decipher Billy's techno talk and translate it to her teammates. That definitely earned her some cool points. Was there a romance brewing between Billy and Trini? That seems to be a topic debated among Power Rangers enthusiasts. I don't know. I think I would have liked to see a romance between the two of them just to take the focus off of Kimberly and Tommy. Argh. That's a topic for another column.
Trini wore yellow like nobody's business! Okay, so it's no secret that each of the Rangers wore their respective colors in their civilian clothes. That was a bit of a nice running gag. However, no one could pull off yellow like my girl Trini. It is a tricky color, isn't it? Furthermore, since we're talking fashion, I love how Trini opted not to sport a skirt on her Power Ranger uniform like the Pink Ranger. Of course, there's a reason behind this — one that I won't get into, but the way I see it, skirts were for wimps. Trini had balls … and her Japanese counterpart did too … literally.
So, there you have it! Like I said, Trini was awesome, and she definitely deserves to be celebrated. While there are other Power Rangers that may be a bit more popular, Trini did more than hold her own. That counts for something, right? After all, everyone isn't equipped to pilot a giant sabre-toothed tiger robot through the abandoned warehouse district of Angel Grove. That takes moxy!  That takes valor!
Or maybe just a really awesome stunt double.
[easyazon-image align="none" asin="B0080730CK" locale="us" height="160″ src="http://ecx.images-amazon.com/images/I/51nu27izMWL._SL160_.jpg" width="114″]
Photo Credit: Saban