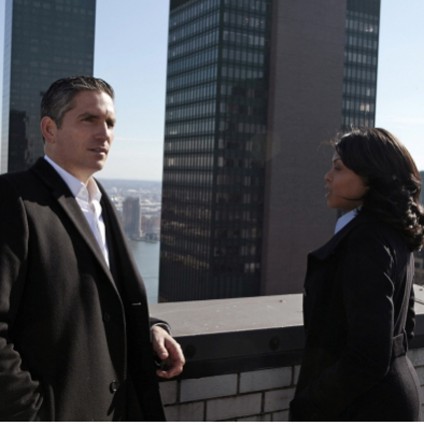 Up until last week, I was all about the Reese and Carter hook up in Person of Interest. I read the fan-fiction. I watched the YouTube videos. And, even though I suspected CBS wouldn't go there, I secretly, secretly hoped within my heart that it would happen. Although I still want it to happen down the line, watching recent episodes, I'm starting to see less of an "I will always love you" Bodyguard meets "I would die for you" '90s Robin Hood feel. Instead, when I look at episodes post-"Get Carter" and pre-"Flesh and Blood" I don't see the red hot passion, just friend-like concern.
As much as I'd like to see a Carter-Reese pair up, it probably won't happen. Why?
10 Reasons Carter and Reese Won't Happen
#1. Thrill of the chase. Up until "Flesh and Blood," Reese's red-hot passionate desire to protect Carter from herself, Snow and any surrounding dangers rocked my cold heart. But, post-"Flesh and Blood," he treats her like an asset. He smirks at her, ignores her and expects her to return for more. Ironic, isn't it, that when Reese pursues Carter 100%, she shuts him down; but when she's on team Reese 127%, he shuts her down? I take it back; maybe they are in a real relationship. Regardless, I wonder what drove Reese to Carter in the first place (outside her moral compass) and what turned him off once she jumped on board.
#2. The Batman principle. Here's the 834313532rd Batman-POI comparison. Like Commissioner Gordon, Carter is the single parent of a quirky teenager. Like Batman, Reese's intense grief drives him differently from normal people. Although Gordon and Batman share an intense years-long connection and are closer than each other's significant others, they never hang out together. You never see Gordon in the bat cave or Batman chilling on Gordon's couch. It doesn't happen. To keep their worlds separate and each other safe, they maintain an arms length distance outside of the weekly crime. Let's just hope Reese doesn't use Carter's kid, Taylor, as a pseudo-Barbara Gordon.
#3. Reese isn't real. Reese doesn't exist in our world. Not legally. Until Reese clears up his CIA/FBI/mob mess, single parent and decorated cop Carter can't have a relationship with him. In fact, I'm slightly concerned he and Finch use her to pull records illegally. Eventually she's going to get burned. I wonder. Will she go the way of The Cape and get sucked into their world 187%?
#4. The CBS precedence. CBS has a history of NOT pairing up characters with awesome chemistry. When The Mentalist premiered, I felt certain Jane and Lisbon and Grace and Rigsby would eventually get together. Yet, four seasons in, Jane and Lisbon remain platonic and Grace and Rigsby remain separated. Heck, look at NCIS with Ziva and Tony as well as NCIS:LA with Deeks and Kensi (not to mention the two tech geeks). CBS clearly stands for cock blocker series. What if POI follows this precedence? Heck, look at the CBS POI site. I challenge you to find more than a couple pictures of Reese and Carter in a shot alone facing each other.
#5. The Moonlighting principle. Most shows are afraid to put their leads together. Look at In Plain Sight. Despite the insane chemistry between the two lead characters/cast, Marshall and Mary wound up soulmates (but not the type that knock boots). While Bones, Nikita, and Burn Notice did an excellent job putting their leads together, will CBS follow the will they-won't they of Castle, the straight up platonic of In Plain Sight, or the eventual coupledom of Burn Notice?
#6. Too much going on. Chris Carter swore he'd never put Mulder and Scully together because with the Cigarrette Smoking Man, alien conspiracies, an initially untrustworthy boss, Kryocek and missing kid sisters, they didn't have time to get it on. Also, Carter and Reese are too invested in saving lives. Could you see them slipping under the sheets knowing another number could appear at any moment? Probably not.
#7. Christopher Nolan gossip. When it comes to Person of Interest, Christopher Nolan is one gossipy gossip girl. He sold Henson on the role with the three musketeers premise, but hadn't planned on connecting the three until the season finale. Recently, he hinted that friendships might fray, but nothing about a Carter-Reese connection.
#8. The interracial principle. Yea. I went there. Let's be honest, has any show ever put and kept two interracial leads together as the show's driving force, including Private Practice but excluding Psych? Exactly.
#9. Film vs. TV. If this were a 1.5 hour film, we would've had an end scene indicating a romantic direction. But, that's where film and TV differ. Film brings the leads together while TV keeps them as far apart as possible to delay the inevitable. Considering Jim Caviezel and Taraji Henson have a great on-screen interaction (and it's fun watching them bring new sides out of each other's characters), what if the chemistry between the two was accidental (and the directors are toning it down so we won't read so much into them)?
#10. Reese is messed up. Come on now, obsessing over an ex-girlfriend he decided not to save? OK. Granted, that makes sense. But, what woman wants a guy obsessing over his ex-girlfriend, let alone his dead ex-girlfriend?
So, give up hope, all ye who enter the Carter-Reese-ship. It's for your own good! Look at the In Plain Sight fans. Do you want to end up like them, pining for five years for something that won't ever happen? Exactly.
But … if you STILL  believe it COULD  happen, DESPITE my strenuous warnings, click to the next page for ten reasons why a Carter and Reese relationship MIGHT work.
Join us for a Person of Interest LiveClack for the Season Finale from 9:00-10:00pm EST on Thursday, May 17th. Then we can discuss Reese, Carter, Finch, Fusco, and our hopes for the second season!
Photo Credit: CBS
This Post Contains Multiple Pages: 1
2