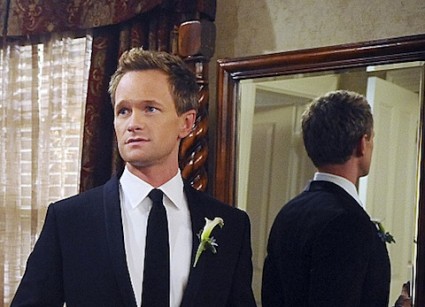 If you think way back to the first time we met How I Met Your Mother's Barney Stinson, the idea of him getting married was the most absurd thing I could think of. Things have obviously changed in the last couple seasons, as one of the bigger mysteries of the show has been the identity of his future bride. "The Magician's Code" finally delivered on the big reveal and it absolutely landed it.
Technically, my predictions have been wrong these last couple of weeks. I had posited that the intended couple would be Barney and Nora (earlier) or Quinn (more recently). In the future, there would be some last minute, sitcom-esque shenanigans that would eventually install Robin as the rightful bride, with everyone living happily ever after – except, I guess, the spurned bride. I'm much happier with Robin being the intended bride for a variety of reasons, including eliminating the idea of HIMYM revisiting someone not getting married that was supposed to – but more on that later. Obviously the story of next season will have to include how we get from Barney's (awesome) proposal to Quinn to his wedding with Robin. Knowing that the show is headed in the right direction is incredibly reassuring.
If there is anything I've appreciated about this season of How I Met Your Mother, it is the recognition that Victoria is Ted's "one that got away," and not Robin. She's only shown up a couple of times, but she's played a significant role, considering she's the one that put the bug in Ted's ear about not being over Robin. If there is any woman that the show has ever featured that I think could be the titular mother, it is Victoria. And, surprisingly I don't really have a problem if she's just a bit of misdirection/obstacle until Barney and Robin's wedding OR if we discover Future Ted has been a bigger unreliable narrator than we originally believed. There's always been something about them as a couple – or even the idea of them as a couple – that has worked for me. If we have to discover that we've been lied to to make it work, then I'm willing to forgive the writers for that one.
No matter how Victoria and Ted's story eventually ends, he is going to feel incredibly guilty for what he's done. As much as I like Victoria, I'm a little disappointed in Ted. I'm glad he as a character – and the show in general – didn't forget that he'd been left at the altar once himself. I would hope though, as Ted generally comes off as a (occasionally douchey) good guy, that the memory would result in more than just a quick pause in his decision-making process. His words were that it almost killed him. What will the guilt of having done that to someone else do to him?
What did you think of the season finale?
The Lily's In Labor website is real, but we've embedded the video below:
Notes & Quotes
I loved Marshall's Yoda-talk!
"That was not cool Ted!" – Robin
"CONTRACTION!" – Lily
"That wasn't cool Ted?" – Robin
My favorite story? The time they went as the Breakfast Club but forgot to coordinate their costumes.
I didn't get a great look at Lily's nurse when she got her tonsils out, but did it kinda look like Abby Elliott to anyone else?
My voice got a little gruff when Marshall told us they'd named their son after his father.
"I don't always choose women there's no future with … kind of." – Ted
"Name one exception." – Robin
"Victoria. Victoria was great." – Ted
"Exactly. And you threw it all away to chase some hot piece of ass." – Robin
"You mean you?" – Ted
"Thank you." – Robin
Hmmm … I'm not sure that's what the inside of Tinkerbell's vagina would look like; I'm sure she's more of a Disney fan.
The Fiero and The Proclaimers!
"Eight or higher bro." – Marshall
"Well, where do you rate this?" – Ted
"This is the same as what's in little Marvin's pants right now. A soft two." – Marshall
I recognized at least one of the writers, Joe Kelly, in the security line at the airport.
If you believe the credits, Frances Conroy did return to voice Barney's mom, but I didn't necessarily recognize her.
Photo Credit: Ron P. Jaffe/CBS