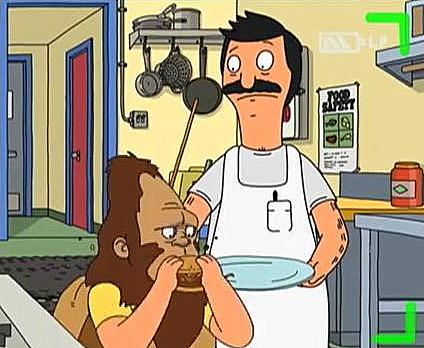 Well … season 2 of Bob's Burgers certainly went out with a bang.
One of the most disturbing quotes ever was featured this episode. And it might have been one of the most disturbing things ever said on an animated cartoon, let alone television itself.
Linda had just crashed (literally) the sound stage where Bob and Gene were filming on "Get On Up." She surprised everyone with an "intervention" so to speak by stopping the segment — and, additionally, the male members of her family from fighting — by exposing breasts and dancing on live television. It wasn't the fact she did what she did that was shocking. It was what Teddy later said to Linda in Bob's Burgers that was the kicker:
"Show's over Teddy. Come on …" — Linda behind the counter uncomfortably noticing Teddy staring at her chest
"Sorry, Lin. It's just uhh … you imagine something for so long and then, like … you thought was pink is brown and … like you thought was symmetrical is not … it's just unsettling …" — Teddy
"Teddy … please … " — Bob
Uhm … Holy Crap! I couldn't help up grin a mile wide when I heard that. Did "Teddy really just say that … ??!?" I asked myself while immediately rewinding my DVR back for verification. That was a helluva shocker! Not to mention a jaw-dropping way to end the season. If only there was video of that which could be included in the post, because watching it brings on a whole new meaning.
And, really … did we expect anything less? Last season ended with a tussle over a jockstrap. This one? Boobs flailing about on TV.
But, of course, in its strange, come-full-circle manner, Bob's Burgers righted the ship and Linda brought Bob and Gene back to the normal (for them) father/son relationship, no longer jousting with each other. Isn't that a refreshing relief from all the season-ending cliff hangers we've been witnessing of late? It is for me.
See you in the fall for season 3, Belcher clan.
Notes:
Lots of featured burgers this episodes …
"Poutine On The Ritz" Burger (comes with Poutine fries)
"Don't Get Creme Fraiche With Me" Burger
"Onion-Tended Consequences" Burger
"Bruschetta-boutit" Burger
"Mediterran-Misbehavin'" Burger
"I'm Gonna Get You Suckatash" Burger
"Every Breath You Tikimasala" Burger
And … loved the (temporary) business next to Bob's at the start of the show: "Yes, Wire Hangers"
Lastly, enjoyed the little cameos of some of the regulars watching "Get On Up" on their televisions: Teddy, Mort, Mr. Fischoeder, the underwear guy on skates …
Additional Quotes:
"What kind of a god would give you those legs … and no rhythm … ?!?" Gene to Peter Pescadero
"Yeah … milk? Saving families? What can't breasts do?!?" — Gene to Bob after Linda exposes herself on live television
[easyazon-image align="none" asin="B00775R45A" locale="us" height="160″ src="http://ecx.images-amazon.com/images/I/51t4xulaIGL._SL160_.jpg" width="117″]
Photo Credit: FOX