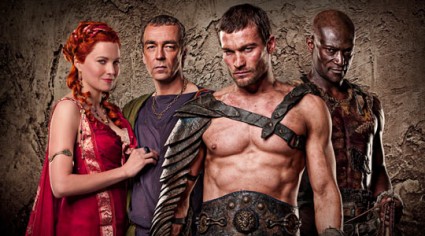 Spartacus  is going to end after its next season, called "War of the Damned" — this is the news that startled fans of the bloody Starz drama yesterday. Speaking as one of those fans, who found, to my very great surprise, that I enjoyed the show after a very rocky start, I am disappointed … but also relieved. And wishing this would happen to more shows I love.
As I wrote about Lost Girl, I think sometimes a show can have too long a season. The corollary to this is that a show can also have too many seasons by outliving its premise. The best current example of this I can think of is Dexter, a show I had to give up on a season ago because I became increasingly unconvinced that he wouldn't be caught, and because nothing really changed. The riveting performance of Michael C. Hall and guest stars like John Lithgow were simply not enough to keep me interested after a while.
Similarly to Dexter, Spartacus' premise has a built-in shelf life. If the point of the show is to see Spartacus and the other slaves seek vengeance for their wrongs and gain freedom, eventually that has to start happening or the show will be mostly filler. The show has showed a commitment to being all killer, no filler — quite literally. The first season, Blood and  Sand, ended with an episode actually titled "Kill Them All," which depicted the slaves' escape from the House of Batiatus in the most violent way possible. The second season (not counting the prequel series Gods of the Arena), ended with a startling, ambitious episode in which the former slaves' enemies were definitely taken out. The show had the guts to give no reprieves, even to fan favorites like Lucy Lawless' Lucretia. Few TV shows would dare to do the same.
This commitment to killing characters means that the third season will have to introduce new enemies, including Julius Caesar, according creator Steven DeKnight. A show willing to wipe the slate clean at the end of the season can only manage that so many times before we stop caring about the new characters. Also, soon the willingness to kill anyone would also become predictable in its own way. Given that the show runners are to some degree bound by the history of the Third Servile War and the real-life Spartacus, it makes sense to accept the built-in end date and allow the show to go all out in its last season. In fact, it's amazing and admirable that the show went on a all after the tragic illness and subsequent demise of star Andy Whitfield. We are lucky to have more show at all, especially at a high quality level.
This trend of setting an end date began when it was announced that Lost would end after six seasons. The show immediately tightened its focus on its endgame and stopped having pointless episodes with Jack hanging out on the beach with Bai Ling. Now, it's common for shows like Breaking Bad and Mad Men to have end dates set a season or two in advance, and I think more shows should follow suit. After a while, creative juices run dry out, and keeping a show on the air serves no one except the networks and studios who hope to get syndication deals or keep cash cows around. However, in this particular battle between art and commerce, some networks at least seem to be allowing art to win out. I wish more networks had the stones to do the same thing for shows with ambitious premises.
I know man fans will be angry over this, but I for one will be tuning in eagerly for the denouement of this saga. I am glad Spartacus can go  out on its own terms rather than showing Sparty and the gang playing cat-and-mouse with Caesar for five more seasons, hiding in the hill country around Rome. Fans, whether they realize that or not, would hate that after two and a half seasons of a show whose mantra really has been "Kill Them All." Ending sooner than later is the only way for the show to truly realize the uncompromising creative vision that has made it popular in the first place.
What do you all think about this trend of planning end dates for shows a year or more in advance? And are there any other shows that you want to see have the same treatment?
Photo Credit: Starz