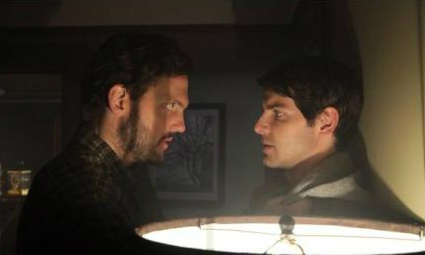 I didn't watch Grimm when it premiered, in part because it was on Fridays and those nights were already full, but mostly because I watch Supernatural  and I figured I didn't need a clone of that show.  Two dudes who hunt monsters, yeah, been there, done that.  But I've now watched the first four episodes and I can say it's not a clone, though there are certainly some similarities.
Similarities:
Don't be in the teaser. I learned this rule from The X-Files, and it applies to both Supernatural and Grimm. In all four episodes someone is attacked in the teaser. They don't all die, surprisingly enough (since Rocky makes it out alive of the Goldilocks episode). But my thought after seeing the pilot was, "Ah, it's going to be one of those shows."
Flashlights. Do they not have a lot of electric lights in Portland? Nobody even feels for a light-switch when they're about to go down into dank basements. I guess because they know it's futile.
The family business of "saving people, hunting things." Grimm makes it more explicitly a family business, where it's a biological lineage, while the Winchesters have a choice in theory, though their lineage is at least three generations of hunters.
A journal which functions as the Encyclopedia of Monsters, which both heroes must consult to figure out what the monster is and how to fight it. They also have human/quasi-human encyclopedias that help them out, though Grimm introduces theirs as one of the monsters, while it took Supernatural a while to introduce a consistent recurring source of supernatural info in Bobby.
Male bromance. Because there's Nick and Monroe, and Nick and Hank. It's only a matter of time before Hank and Monroe meet.
Female victims. I acknowledge this is somewhat inevitable and I'm always going to be more sensitive to women-as-victims than I am men, but there is a familiar pattern here of male heroes, and female victims and/or non-entities (Juliette and Adalind have promise, but they're still far less present).
Differences:
It's nice to see Nick in an apparently stable relationship with a competent woman. I would like to see Juliette much more developed but at least she's there (and alive).
It's not a road trip. I have some concern that this may lead to the Sunnydale Problem, where tons of monsters live in town and the deaths are obviously bizarre, but nobody really blinks at it too much. Having Renard there to cover up helps somewhat, but it's still easier to believe two guys driving around the country will stumble on various monsters, than they all just happened to settle in Portland.
Nick is almost entirely ignorant of his heritage, the family business, monsters, and everything to do with the supernatural. The Winchesters never were and they hunted with their father from a very young age. They were far more prepared. I think this has the side-effect of making Nick less sympathetic than he should be because he's so clueless and bumbling around.
Let me pause there and mention how much I hate the trope of "hero has well-meaning but stupid mentors who don't bother to tell him about his birthright or what's going to happen, even though it's inevitable and they know that." Marie seemed wonderfully badass, and I'd love the show to be about her, but for crying out loud, why would you ever leave your nephew and heir in such dangerous ignorance? What if she'd been hit by a bus six months earlier? He would still inherit the power, as far as I understand it, and be even more helpless. It's so absurd.
Other things I like: 
Bee people. I love the giant bee monsters and their '50s era cheesy look. And I love that Nana Visitor's character was ambiguous and left Nick unsure about who was the real victim.
Captain Renard (Sasha Roiz is always a pleasant sight). He makes this show for me already. I hope he continues to be the awesome secret lord of the Portland monsters with the ambiguous agenda toward Nick.
Monroe adds a nice touch of humor to otherwise fairly dour proceedings.
So far it's been more fun than I thought it would be.  Onward next week to episodes five through eight of Grimm!
Photo Credit: NBC