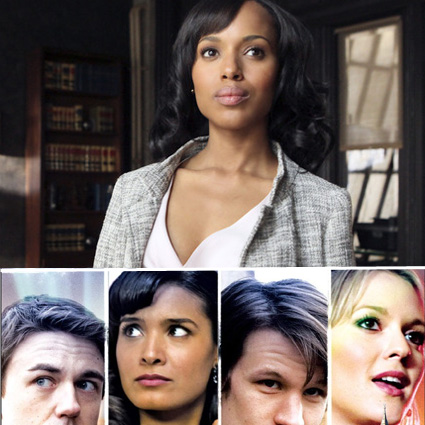 If you enjoyed the addictive, sexy intrigue of Shonda Rhimes' freshman series, Scandal (2012), then you'll LOVE BBC 2's 8-episode show, Party Animals (2007). Scandal focuses on the political fixes ensured by the conservative president's former right hand woman, Olivia. Similarly, Party Animals shows the aggressive social politicking surrounding Britain's political system by following the lives of three different figures: Ashika (Shelley Conn), the conservative parliamentary member's right hand woman; the idealistic liberal, Danny (Matt Smith) and the politically apathetic lobbyist, Scott (Andrew Buchan). Ashika's plotline as a conservative minority woman, advising an elected official that she has an affair with alongside her gay best friend, basically parallels what occurred during Scandal's sixth episode, "Trail".
Both Scandal and Party Animals appear influenced by Condoleeza Rice, featuring attractive, conservative minority females with  liberal leanings. Like Rice, both Ashika and Olivia are smarter than their bosses, fix his political issues, and deal with whispers about their relationship. Unlike Rice, both Olivia and Ashika deal with vicious slurs thrown by their own party members and partake in the hottest love scenes ever. (Seriously, who knew politicians had such hot bodies?) Also, both Ashika and  Olivia deal with investigations by their boss' enemies which uncover their affairs.
While both shows parallel each other concerning the sexy, tongue-in-cheek writing, both differ on their leads' extra-marital relationships. Although I LOVE Scandal, I preferred how Party Animals handled the fallout. Ashika eventually sees her boss as a man who doesn't love her beyond achieving his own satisfaction. Although she remains friends and allies with him, she views his attempts to re-kindle their sexual relationship as humorous and partly sad. Unfortunately, that doesn't happen in Scandal, where Olivia feels terrible for breaking up with a married man. I hated that everyone, including Olivia's former friend, her former lover, and her former lover's wife, all blamed her for leaving him "alone" and "unprotected." Ahem. Grant's the fictional leader of the United States with a WIFE. Putting his wandering dick syndrome on a woman who decided against becoming the White House whore is cruel and unreasonable.
Outside of the sex, my favorite Party Animals moments surrounded the carving out of party lines after merging them together. The premiere episode introduces Ashika's character as the stereotypical conservative taking advantage of the hapless liberal researcher's mistake. But, as the series progresses, we see where her perspective aligns with liberal agendas concerning open religious values and open acceptance of all sexual orientations. However, in the penultimate episodes, the campaign advisor for the opposition pushes her to reveal she can't be all things to all people.
In quiet ways, the show addresses what we experience on a daily basis. I didn't vote in the 2000 election because both candidates seemed so incredibly similar. However, Party Animals analyzes the shades of gray where political party messages seemingly coalesce yet underneath remain separated. When Ashika tells her politically apathetic, yet liberal-leaning boyfriend, Scott, about her plans to give the high school's football field to a local corporation to raise funds for her district, I loved watching his slow realization that they might share similar values as lovers, but still diverged along party lines.
I loved Party Animals, because like Scandal, it's smart, sexy fun. The Party Animals characters are not stereotypical party animals undergoing drunken, cocaine-fueled benders (mostly). However, they ARE political animals fighting viciously for their parties. I love that the characters aren't wide eyed innocents just starting out (save one). They're in their late twenties-to-early thirties and at career crossroads. If you're missing Scandal, check out Party Animals' eight episodes on Hulu. You won't regret it.
Party Animals was written by Ben Richards (who worked on the awesome Spooks) and directed by Brian Grant (who worked on the equally awesome As If).
Photo Credit: Amazon BFS Entertainment, ABC