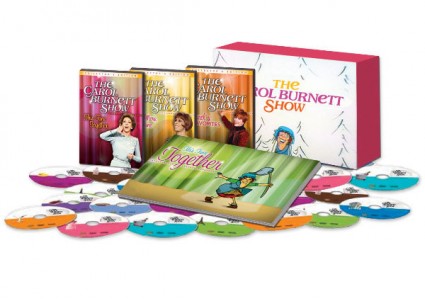 **This contest is now closed.
Classic TV fans, it's time to "have a laugh, or sing a song" because the classic The Carol Burnett Show is coming to DVD courtesy of Time Life Home Video! Relive all of the laughs, the music, and the amazing line-up of special guest stars over the course of 50 episodes, some presented in this collection for the first time on DVD. Who can forget the classic "Went With the Wind" sketch, or Carol's gallery of crazy characters from Mrs. Wiggins to Nora Desmond to Eunice? And in addition to guest stars like Betty White, Bernadette Peters, Steve Martin, Roddy McDowall, and Maggie Smith, these uncut episodes also feature musical performances by The Pointer Sisters and The Jackson 5!
There will be two sets available from Time Life: a 16-episode, 8-DVD collection and the 50-episode, 22-DVD collection that also includes over 20 hours of bonus material (including two episodes of The Garry Moore Show, where Carol got her big break on TV, and an interview with Harvey Korman and Tim Conway taped in 2004) and a collector's edition book.
And the best part of all is … CliqueClack is giving away one Ultimate Edition box set, courtesy of Time Life Home Video (a $199.95 value)! And all you have to do to enter is simply leave us a comment below telling us why you want The Carol Burnett Show Ultimate Edition or share one of your favorite memories of the show. We will randomly select one winner at midnight (Eastern time) on August 20th, so make sure your comments are in by Sunday, August 19th. So "let's bump up the lights" and see what you have to say. Good luck!
You can find out more information about The Carol Burnett Show on DVD by visiting www.CarolOnDVD.com.
Photo Credit: Time Life